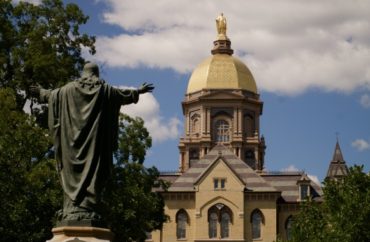 UPDATED
Students say the university ignored moral problems with the vaccine
The University of Notre Dame announced recently that all students must receive a COVID vaccine to return to campus and will offer students a vaccine that has been tested on a cell line developed from aborted fetal tissue.
"We urge everyone who is not already vaccinated to sign up this week to receive the first of two doses of the Pfizer vaccine," university president John Jenkins, a Catholic priest, said in a letter. The university has "the goal of fully vaccinating as many members of our campus community as possible before the end of the spring semester."
"We will, of course, accommodate documented medical and religious exemptions," the 80 percent or higher Catholic university, said in its announcement.
All students — undergraduate, graduate and professional — returning to campus for the fall 2021 semester are required to be fully vaccinated against COVID-19.

Details: https://t.co/YBv3FCPUSZ pic.twitter.com/YUz2nSKw2D

— Notre Dame (@NotreDame) April 7, 2021
"Notre Dame will require all students – undergraduate, graduate, and professional – to be fully vaccinated as a condition of enrollment for the 2021–22 academic year," the university said in a fully bolded sentence.
Pfizer did not develop the vaccine from aborted fetal tissue, but it did test it on a cell line derived from it.
Two students spoke out against the mandate in a letter to the editor in the student paper.
University officials "deliberately failed to acknowledge the morally compromised origin of the Pfizer vaccine that will be distributed to the student body," graduate students Joseph Klatt and Christopher Romanoski said in The Observer.
"As a Catholic university dedicated to the pursuit of truth and open discussion, Notre Dame cannot shy away from this difficult discussion for the sake of convenience," the student said, before an explanation of the moral problems with the vaccine.
"I'm losing my anger over this stuff and just becoming thankful that we traditional Catholics see clearly what is really happening," Catholic priest Dave Nix said in a tweet opposing the mandate.
The United States Conference of Catholic Bishops said in December 2020 that the Pfizer vaccine had a remote connection to abortion and said it would be permissible for Catholics to use.
However, Bishop Joseph Strickland has instructed the parishioners in the Diocese of Tyler, Texas "to reject any vaccine that uses the remains of aborted children in research, testing, development or production," which would include the Pfizer vaccine.
MORE: Catholic professors mostly silent on Biden's support for abortion
Editor's note: This article has been updated to include more information on statements from Catholic bishops on the vaccines.
IMAGE: Rebecca_D_Lev/Shutterstock
Like The College Fix on Facebook / Follow us on Twitter