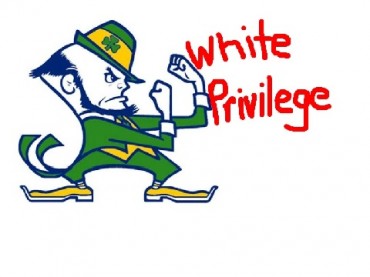 Next semester, Notre Dame will offer a class that aims to help students acknowledge and understand their so-called "white privilege" and – as a result of their "personal transformation" – find ways to "disrupt … oppression," a description of the class states.
"The goal for each participant is personal transformation: to leave the class… more aware of injustices and better equipped with tools to disrupt personal, institutional, and worldwide systems of oppression," according to a description of the six week, one-credit sociology course titled "White Privilege Seminar."
Its class description argues "people consciously and unconsciously simultaneously participate in and are affected by systems of oppression. However, since these behaviors can be learned, they can be unlearned."
The "White Privilege" seminar is billed as a "preparatory class" for its students, who will receive university funding to attend the White Privilege Conference, a four-day event set for March in Louisville, Kentucky.
But some students, in interviews with The College Fix, said they believe the class is blatantly biased and not appropriate.
"This isn't multicultural," Notre Dame student and conservative activist Mark Gianfalla tells The Fix. "It's an opportunity to bias students towards the shaming of one culture and ethnicity."
Notre Dame student Timothy Bradley, executive editor of campus publication The Irish Rover, also told The Fix it's "unusual" that, before enrolling in the course, interested students are required to fill out applications.
"The course application asks students to provide answers to questions such as, 'What privileges do you have? What benefits have you received? How do you define white privilege? What do you hope to gain from the conference?'" Bradley notes.
That conference will examine "challenging concepts of privilege and oppression and offer solutions and team building strategies to work toward a more equitable world," according to its website. The site adds the conference is not "designed to attack, degrade or beat up on white folks."
The Notre Dame course is scheduled to meet eight times between January and March and will be taught by Professor Iris Outlaw, director of Multicultural Student Programs and Services at Notre Dame. Professor Outlaw did not respond to The College Fix's email requests for comment about her class.
Gianfalla notes that Outlaw participated in protests against conservative pundit Ann Coulter from speaking on campus earlier this year.
And Bradley points out that paying for students to attend the White Privilege Conference could present a conflict of interest for Notre Dame, a Catholic university, considering that the conference itself is a harsh critic of Christian values.
A workshop titled "The Roots of Racism in Christian Hegemony" took place at the last conference, with the intent to "dig beneath the surface of Christianity's benign reputation to examine how it undermines our interpersonal relationships, weakens our communities and promotes injustice."
"As a Catholic university, Notre Dame should strive to do the best it can, through education and campus life, to promote the Catholic faith and educate the hearts and minds of students in light of the Catholic intellectual tradition," Bradley said. "The attacks against Christianity and heterosexuality at the White Privilege Conference seem to share little or no common ground with the synthesis of faith and reason that is central to Notre Dame's mission as a Catholic university."
Like The College Fix on Facebook / Follow us on Twitter