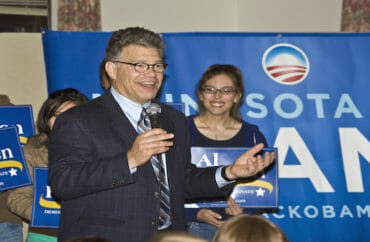 Given the opportunity, scholars remain silent
Many feminist professors at universities across Minnesota are declining to comment on or condemn Democrat Sen. Al Franken over his sexual harassment scandal — even as the senator prepares to resign for the misconduct.
At least five women have reportedly alleged Franken groped them or forcibly kissed them decades ago, but the allegations came to light in recent months, at a time when sexual harassment claims have taken center stage and a reckoning of sorts over such behavior has gripped the nation.
The College Fix reached out to nine women's studies professors at four large public and private universities in Minnesota, the state Franken serves, to seek comment on the sexual harassment accusations against the Democrat politician and former actor, as well as his resignation.
Those professors include Aren Aizura and Miranda Joseph at the University of Minnesota, Young-ok An and Susan Myers at the University of St. Thomas, Shannon Miller and Nick Clarkson of Minnesota State University, and Mumbi Mwangi at St. Cloud State University.
None of them responded to multiple emailed queries from The Fix over the last month asking them for their thoughts on Franken's alleged sexual misconduct, which includes a photograph of the senator groping a woman's breasts as she slept.
One professor did at least acknowledge the media request. Elizabeth Berila, director of the women's studies program at St. Cloud State, responded to The Fix's query but did not comment on Franken, instead punting the question to Jane Olsen, director of the Women's Center at the university. Olsen also did not respond to requests from The Fix seeking comment on Franken.
While feminist professors remain tight-lipped over the Franken affair, at least one scholar has spoken out to denounce him.
Peace studies professor Jack Nelson-Pallmeyer at the University of St. Thomas has condemned Franken and called for his resignation, telling Tommie Media earlier this month: "I think he needs to resign…I am a little disappointed in the fact that I have never felt in his apology that he has actually apologized for his behavior."
The editorial board of The Minnesota Daily at the University of Minnesota, meanwhile, also called for Franken's resignation, writing: "He should immediately resign as his past actions do not reflect the principles that our government leaders should adhere to."
Franken announced his decision to resign from Senate on December 7 and said he would resign in the "coming weeks," though no date has been announced yet. His successor has already been chosen by the governor of Minnesota. It will be Minnesota Lt. Gov. Tina Smith.
While Senate Democrats led the charge to force Franken's resignation earlier this month, before the Alabama election, some are now urging him to stay in office.
One of these Democrats is Sen. Joe Manchin from West Virginia, who says that Franken was "railroaded" and that the calls for his resignation are "hypocrisy at the highest level."
In his resignation speech, Franken stated that he has "earned a reputation as someone who respects the women I work alongside every day."
"I know there's been a very different picture of me painted over the last few weeks. But I know who I really am," Franken said shortly before announcing that he would resign.
The Senate seat held by Franken is up for reelection in November 2018.
MORE: Women's studies scholar says of Trump: 'I wish someone would just shoot him outright'
MORE: Women's studies professors divided over whether women's studies is too vagina-centric
IMAGE: Al Mueller / Shutterstock.com
Like The College Fix on Facebook / Follow us on Twitter