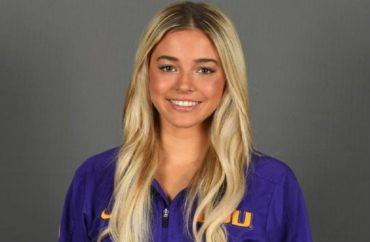 Female college athletes who win endorsements contracts are victims of sexism and racism, one columnist argues
Female college athletes who sign name, image and likeness deals are victims of sexism, according to New York Times columnist Kurt Streeter. But white female athletes also benefit from racism by winning more endorsement deals, he wrote.
Louisiana State University gymnast Olivia Dunne, assumed to have millions of dollars worth of endorsement deals, is one such victim of sexism, even if she does not realize it.
"To Dunne, and many other athletes of her generation, being candid and flirty and showing off their bodies in ways that emphasize traditional notions of female beauty on social media are all empowering," Streeter wrote.
Dunne (pictured) has 8 million social media followers, which likely helped her win the endorsement deals.
"But the new flood of money — and the way many female athletes are attaining it — troubles some who have fought for equitable treatment in women's sports and say that it rewards traditional feminine desirability over athletic excellence," Streeter wrote. "And while the female athletes I spoke to said they were consciously deciding whether to play up or down their sexuality, some observers say that the market is dictating that choice."
Streeter also warned that racism may be at play too.
He wrote:
Race cannot be ignored as part of the dynamic. A majority of the most successful female moneymakers are white. Sexual orientation can't be ignored, either. Few of the top earners openly identify as gay, and many post suggestive images of themselves that seem to cater to the male gaze.
Other than the massive internet audiences, none of this is entirely new. The tension among body image, femininity and the drive to be taken seriously as athletes has been part of the deal for female athletes for generations.
Streeter is also concerned that companies are profiting from female athletes dressing and acting in a way traditionally considered attractive to men. "Scroll through the social media posts from female college athletes across the United States and you will find that a significant through line on many of the women's accounts is the well-trod and well-proven notion that sexiness sells," he wrote. "Posts catering to traditional ideals about what makes women appealing to men do well, and the market backs that up."
Stanford University women's basketball coach Tara VanDerveer is equally distraught, calling the situation a "step back" for women's equality.
"We're fighting for all the opportunities to compete, to play, to have resources, to have facilities, to have coaches, and all the things that go with Olympic-caliber athletics," she told Streeter. "This is a step back."
MORE: Kentucky coach offers coal miner VIP treatment
IMAGE: Olivia Dunne/Instagram
Like The College Fix on Facebook / Follow us on Twitter