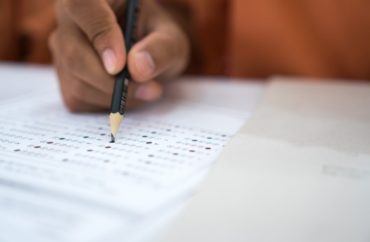 Legal payout is largest in city history
New York City will pay out $1.8 billion dollars to some 5,200 aspiring and former minority teachers who failed a certification exam deemed racially discriminatory.
The city is now settling a nearly three-decade-old federal lawsuit that several years ago found the test biased against black and Hispanic former and aspiring public school educators, the New York Post reported Saturday.
"As of Friday, 225 people who failed the Liberal Arts and Sciences Test used for teacher licensing from 1994 to 2014 had already been notified they're getting settlements of at least $1 million [each]," according to an analysis of Manhattan federal court records conducted by the Post.
Those who failed the test either got turned down for public school teaching jobs or were demoted to substitute teachers if they were working full-time.
Court rulings determined the exam violated the law because it "allowe[ed] far more white candidates to pass," The Post reported.
More than 90 percent of white people who took the 80-question multiple-choice quiz earned a passing score, according to The Post. However, black applicants had a pass rate of between 51 and 62 percent, and Latinos passed 47 to 55 percent of the time.
Some individuals who did not become teachers will be awarded more than $1 million each as well as possible pensions, The Post reported Saturday.
Specific judgements have been calculated based on what the former and prospective educators would have earned if they had passed the test or had not been required to take it as a condition of employment.
Legal experts say the settlement will give rise to "hundreds of other future million-dollar awards."
The legal payout is the largest in New York City history, the Post reported.
Herman Grim of Queens on July 5 was given the largest individual award at the time of the article's publication, a total of $2,055,383. That figure "includes $1,583,114 in back pay for time never clocked, lost interest accrued, and other compensation," according to The Post.
In 1996, four teachers filed a suit, Gulino v. Board of Education, against the New York City Department of Education and the New York State Education Department alleging the qualification test violated Title VII of the 1964 Civil Rights Act, according to the litigator's website.
Title VII, a federal law, legally prohibits employment discrimination on the basis of race and other protected characteristics, according to the U.S. Department of Justice.
"Lawyers for the plaintiffs brought in experts who testified that much of the discrepancy in scores could be attributed to some of the questions being culturally biased in favor of whites," the Post reported.
The test was ruled discriminatory in 2012 by the third federal judge who dealt with it, The Post reported in 2018. It has taken several additional years for the court to begin determining and issuing payouts.
MORE: Ibram Kendi denounces black linguist for defending standardized tests
IMAGE: smolaw/Shutterstock
Like The College Fix on Facebook / Follow us on Twitter