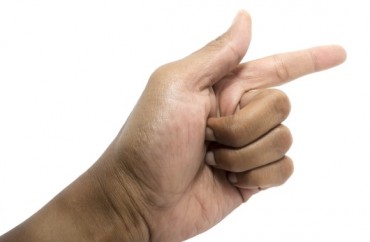 A Nobel Prize-winning scientist has been disinvited from speaking at New York University after students voiced concerns over controversial remarks the scholar made nearly 10 years ago.
Scientist J. D. Watson was slated to give the annual Rodolfo Llinás Lecture at the NYU Langone academic medical center on Sept. 12, but the talk was canceled after students complained about Watson's views on race, and in particular his suggestion to The New York Times in 2007 that Africans are not as intelligent as white people.
Specifically, Dr. Watson was quoted as saying that "all our social policies are based on the fact that their intelligence is the same as ours — whereas all the testing says not really." Watson first claimed he was misquoted, and apologized, and then lost his job over the comments.
He could not be reached for comment by The College Fix about the recent disinvitation.
The decision was prompted by a letter of concern penned by various student diversity groups.
The letter, republished on a popular blog maintained by University of Chicago biology professor Jerry Coyne, stated the NYU students found Watson's views "troubling," and that allowing him to speak would tarnish the lecture series, run afoul of "inclusion," and generate a "toxic atmosphere towards minorities and women."
The Llinas Lecture Organizing Committee agreed, and rescinded Watson's invitation.
"We agree with the students that this runs counter to our mission of diversity and inclusion at NYU Langone Medical Center and have thus elected to cancel the lecture," the letter stated. " …At NYU, we have a strong commitment to equality as well as freedom of speech, and the right balance between these is not always easy to determine."
MORE: Paleoconservative accused of 'hate speech' disinvited to speak at Williams College
The NYU School of Medicine provided a statement to The College Fix about the situation, in part defending it but also acknowledging it has come with some backlash.
"J. D. Watson was invited to speak at a departmental lecture series honoring scientists who have made powerful contributions to science. When a significant number of students expressed concerns regarding sensitive racial and ethical statements he previously made, the department rescinded its invitation in support of its students," NYU's statement read. "While the decision to do so was made at the departmental level without administrative leadership input, we take this situation quite seriously, and will examine further as it has sparked discussions within our own school as to what was the best course of action to follow."
MORE: Students demand disinvitation of feminist icon who says transgender women are not real women
The disinvitation decision has been criticized by observers on both the left and right.
Coyne, on his popular WhyEvolutionIsTrue blog, argued that Watson's "been punished enough, and deserves at least a chance to be heard."
"Losing the Chancellorship of Cold Spring Harbor—losing his job—is about the worst thing that can happen to a scientist, and although there was no option about that, does he deserve to be shunned and punished for the rest of his life? (He's now 88.)" Coyne wrote.
"Finally, Watson still has useful things to impart, as I discovered when chatting with him. Now the students have no choice about whether they can hear him," Coyne continued. "This is censorship, pure and simple."
"If these students had their way, Watson would never be able to speak in public again, for he is tarred for life. And who knows—maybe he's changed his views in light of the absence of data supporting his views on racial differences. His detractors have, in effect, given Watson a life sentence of being shunned for what he said nine years ago, and for which he's apologized; and I don't think that's fair."
And on the right, Jason Richwine argues in National Review that "perhaps most troubling is the part where the university representatives imply they have been doing some deep soul-searching in order to find the best possible 'balance' between free speech and their own views."
"… To state the obvious: If you feel that you need to 'balance' your belief in free speech with your desire to avoid hearing opinions you don't like, then you do not believe in free speech. After all, the whole purpose of free speech as a principle is to protect the kind of speech that some consider wrong or unwanted. We don't need free speech protections to say things that everyone already agrees with."
Like The College Fix on Facebook / Follow us on Twitter
MORE: Here's the speech students at Williams College were too outraged and offended to hear