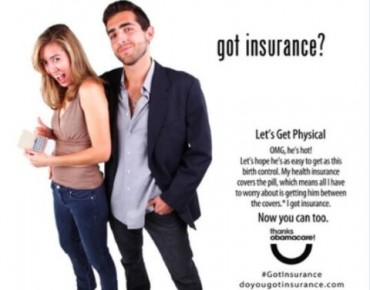 Obamacare advertisements released this week feature the phrase "got insurance?" along with photos of young women excitedly clutching birth control pills with attractive men standing nearby.
In various versions of the ad, the women's thoughts are spelled out something like this: "Let's Get Physical. OMG he's hot! Let's hope he's as easy to get as this birth control. My health insurance covers the pill, which means all I have to worry about is getting him between the covers."
These particular adverts, partially funded by Colorado taxpayers and aimed at female 20-somethings, are one aspect of a new public relations campaign by the Colorado Consumer Health Initiative and Progress Now, the latter of which is an organization dedicated to promoting progressive causes.
As a young woman to which this campaign is aimed, the ads are insulting on many levels.
First of all, the sexism is overwhelming. Liberals are quick to paint conservatives as "anti-women," and often claim Republicans are engaged in a so-called "war on women," yet these degrading and exploitative ads portray women as giddy, sex-starved and desperate whose biggest wish is that some hot guy will be "easy to get."
This belittles the progress women have made over the years toward equality and independence, but Amy Runyon-Harms, executive director of ProgressNow Colorado, defended them, saying: "People get upset when you portray women as independent."
That is interesting – independence can now be defined based on sexual promiscuity?
In fact, the underlying message is not independence, as government-funded birth control doesn't convey any form of personal independence, certainly not financially.
The real message is that women are now not only fully accessible to men, but easy access, thanks to Obamacare, and the promise of sex without consequences. What a fantastic sentiment to pass along to our daughters.
Progress Now is also behind those "BroSurance" ads, a campaign targeting college "bros" to enroll in Obamacare by featuring slogans such as "Keg stands are crazy. Not having health insurance is crazier," and "Not sure how I ended up here perched on top of this keg. I could totally fall, but that's OK."
Apparently, Gen-Y can be summarized by keg stands and casual sex. Lovely.
One wonders if we could have built this nation with the morals and values encapsulated in Progress Now's campaign.
Young people, do you "got insurance?" How about self-worth and self respect?
Fix contributor Annica Benning is a student at Arizona State University.
Click here to Like The College Fix on Facebook. / TWITTER: @CollegeFix