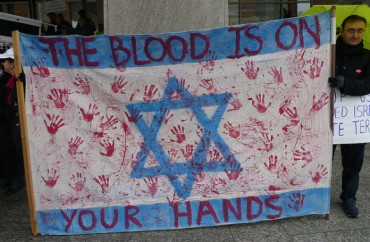 Oberlin College professor Joy Karega, a social justice writing instructor at the Ohio-based liberal arts college, has published a series of posts on social media that largely blames the 9/11 attacks and the rise of the Islamic State and Charlie Hebdo attacks on Israel, according to a report in the campus newspaper that included numerous screenshots of the scholar's comments.
The Tower campus newspaper reports that inflammatory remarks on the professor's Facebook page have been published in various posts since 2015. After the Hebdo shooting last year, she posted "an ISIS terrorist pulling off a mask resembling Israeli Prime Minister Benjamin Netanyahu," it reported. Last year, she threw up a Louis Farrakhan Nation of Islam video that suggested "'Israeli and Zionist Jews' were behind the attacks on the World Trade Center," it added.
Those are just two examples of more than a half-dozen lengthy Facebook post screenshots in the story
that illustrate Karega's conspiracy theories on Israel's alleged connection to Islamic terrorism.
The Tower report, published Feb. 25, comes just a few weeks after some 225 Oberlin College alums signed an open letter calling on the university to address what they contend is rampant anti-Semitism on campus, with the alums' spokeswoman telling The College Fix last month: "For the last few years, I have been hearing reports about the Oberlin campus becoming increasingly hostile for students who express their Jewish identities by supporting Israel."
A campus spokesperson told The Tower in response to the revelation of Karega's comments that "Oberlin College respects the rights of its faculty, students, staff, and alumni to express their personal views. …The statements posted on social media by Dr. Joy Karega, assistant professor of rhetoric and composition, are hers alone and do not represent the views of Oberlin College."
Karega's faculty profile states she specializes in "Black political and protest literacies, translingual composition, rhetoric and composition historiography, social justice writing, and writing pedagogy." She earned her PhD from the University of Louisville in 2014, it adds.
Oberlin's spokesperson did not respond to a request from The College Fix on Monday seeking comment.
Read The Tower report.
RELATED: Hundreds of Oberlin alumni demand officials address claims of rampant anti-Semitism on campus
Like The College Fix on Facebook / Follow us on Twitter
MAIN IMAGE: Susan Melkisethian / Flickr