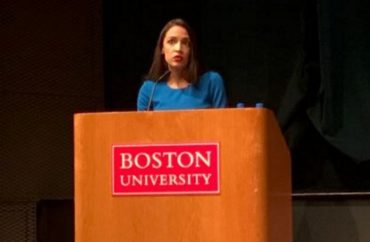 'No one can tell you that something that happened to you is not true'
BOSTON — Alexandria Ocasio-Cortez, a democratic socialist and rising star within the Democrat Party, called Supreme Court nominee Brett Kavanaugh a liar in a speech to Boston University college students on Monday.
While she did not use the word liar, she essentially lodged the accusation at him when asked about the Kavanaugh controversy during the Q&A.
"A generation ago, committing perjury and lying to Congress multiple times in your nomination hearing would have been an automatic disqualifier. To see the rules that we are willing to dismantle just to insert a partisan pick is truly disturbing," she told the audience of roughly 350, most of whom were students.
She went on to hail "activism" as the solution, and boasted to the crowd that one of the women who had cornered judiciary committee member Sen. Jeff Flake (R-Ariz.) in an elevator and yelled at him for several minutes after he agreed to vote "yes" on Kavanaugh was from her district.
"Ana Maria Archila is from our district, is from Queens," Ocasio-Cortez, prompting a round of applause. "In fact, she is an immigration activist, which just goes to show intersectionality and how interwoven all of these fights are. Because she is putting everything on the line and risking deportation … not even for a direct immigration action but for the action of all survivors. And that's how we need to be. We need to be championing the causes of our neighbors. That is what creates power and movement, coalition building."
Ocasio-Cortez, who recently secured the endorsement of former President Barack Obama in her bid for New York's 14th Congressional district, is a 2011 graduate of Boston University, and visited her alma mater for a speech that had sold out in within hours.
The lecture was arranged by Samantha Delgado, an undergraduate student, and BU's Political Science Department. Though socialist student organizations, such as the Socialist Alternative, tabled outside of the venue and sold literature, Ocasio-Cortez did not specifically discuss any of her proposed democratic socialist policies.
When she delved into the Kavanaugh controversy in response to a question, her long-winded answer assumed his guilt, despite the fact that no corroborating evidence or support from any witness testimony has been established at this time.
"I feel for every woman and survivor in America who just lived through this week. I mean, I cannot convey how serious and dangerous and in peril our most basic political institutions are right now. When we see and talk about depicting things that happen in history and people say, 'How could this have happened?' It is because in the slow slide of our public institutions too many people did nothing," she said.
She also called on men to check their male privilege.
"Men, right now is your moment. … The keys right now are in your hands to amplify our voices, because when a man says 'I believe her' or 'I believe whoever the survivor is,' frankly that is what creates legitimacy in these claims — that is what these power structures are all about," she said. "Is it right? No. But ultimately Dr. Ford was facing a panel of eleven men."
"Can you imagine if Kavanaugh was facing a panel of eleven women," she added, prompting a smattering of chuckles. "The tears that would result."
It is unclear if she was referencing the fact that Kavanaugh did tear up during his testimony defending himself before the judiciary committee.
During her speech, Ocasio-Cortez also spoke of her personal experiences during college. She was originally a pre-med student, but switched to studying economics when she learned more about the legacies Martin Luther King and Howard Thurman left at the university. She emphasized the importance of grassroots activism and how it enabled her to win a Democratic primary many believed to be hopeless.
When asked for advice about how to go about activism, Ocasio-Cortez advocated for putting personal testimony over statistics and facts.
"When you are organizing and when you are connecting with people, the most powerful tool that you have is not a statistic, it is not a fact, it is not a news article, the most powerful tool that you have is your personal testimony," she said. "No one can tell you that something that happened to you is not true, and that especially goes for this moment right now, especially when we're talking about survivors."
MORE: Professor calls for white male Republican senators to suffer 'miserable deaths'
Like The College Fix on Facebook / Follow us on Twitter