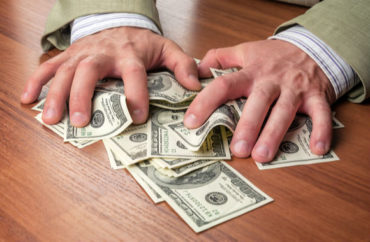 A salary database of public employees in Arizona recently published by The Arizona Republic shows that, among the state's top-200 earners, 199 of them work in higher education.
The database lists the salaries of more than 150,000 state employees across 21 agencies for the 2018 fiscal year. In the top 200, every single person except one on the list works for the University of Arizona, Arizona State University, Northern Arizona University or Maricopa Community Colleges.
Among the top ten, the top four earners are ASU's and UA's football and men's basketball coaches, followed by a couple of deans and professors of medicine and surgery. The president of the University of Arizona also made the top ten.
Published in June, the database first caught the attention of Inside Higher Ed, which published an article titled "199 of Arizona's 200 Top-Paid Officials Work in Higher Ed."
"[Y]ou have to dig far deeper into the list before you find anyone who doesn't work at a college or university: the first non-higher education employee to appear on the list is the city manager of Phoenix, at an annual salary of $314,000," IHE reports. "By that point the list has touched many deans, some number of professors and lots more coaches at Arizona State University and the University of Arizona, plus a small handful of community college chancellors."
The Republic reports that none of the coaches' salaries are supported with public funds, but it also adds that the amounts listed for everyone on the list "are often just base salaries. Many top earners accrue significantly more income from bonuses and other funds."
The highest-paid official is Michael Todd Graham, a former ASU football head coach, with a salary of $3.2 million. He is currently not coaching after having been dismissed due to several disappointing seasons. As for the other coaches, they earned anywhere from $1.4 to $2.4 million. Rich Rodriguez, UA's head football coach, has also since been fired and now works at Ole Miss as its football team's offensive coordinator.
All of these coaches reportedly receive zero percent of their salary in state funds primarily because much of it comes from ticket sales, television deals, and other sources of athletic revenue.
Assistant Vice President of Media Relations Jay Thorne told The College Fix, "University employee salaries are set by the market. Salaries for athletic department personnel come out [of] the revenue generated by the athletic department, such as ticket sales and sponsorships."
UA Vice President for Communications Chris Sigurdson also told The College Fix, "Our athletic salaries, including coach buy-outs, are funded entirely by athletic revenues … The public is not paying for any of those people."
Coaches, medical school, and health science administrators, such as the former UA College of Medicine interim senior vice president Leigh Neumayer and UA College of Medicine Professor of Medicine Joe Garcia, comprise five of the top ten earners.
Some of them, such as Neumayer, whose salary is 90 percent made up of state funds, receive a substantial amount from taxpayer dollars.
Sigurdson told The Fix that "a portion of public (state) funding" goes to UA's medical school and health science administrators, "all of whom are doctors with advanced degrees and years of specialized training, responsible for training the future generation of doctors."
The president of UA, Robert Robbins, is the seventh highest-paid public official with a salary of $800,000, 75 percent of which comes from state funds, while the president of ASU, Michael Crow, has a base salary of $600,000.
Traveling further down the list, most of the top 100 are VPs, deans, assistant coaches, or professors in colleges of medicine. Two professors in ASU's W. P. Carey School of Business also earn $437,000 and $379,000.
On the list of earners that sit in the 100 to 200 range, many more professors of various medical fields are found, along with a law school dean and more VPs, deans, and coaches. A couple more business professors also make the list.
MORE: In Virginia, 80 percent of the highest-paid public employees in higher ed
IMAGE: Vova Shevchuk / Shutterstock
Like The College Fix on Facebook / Follow us on Twitter