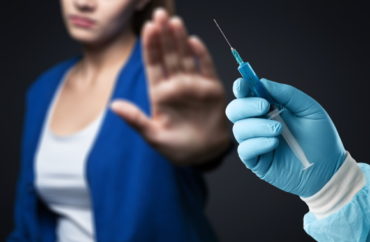 A Republican-sponsored bill to be considered this year by the Ohio House of Representatives seeks to ban COVID vaccine mandates at both public and private colleges and universities.
Republican state Rep. Scott Lipps introduced the legislation, House Bill 747, on Nov. 9 — the day after he was reelected — and it currently sits before the Higher Education and Career Readiness Committee.
"By requiring vaccines and discriminating against individuals who choose not to receive one, we are not only making very intimate health decisions for our students, but we are showing them that their education, choice, and autonomy are less meaningful and not of their own control," Lipps told the Higher Education and Career Readiness Committee, according to Ohio Capital Journal.
The bill states:
"No private college or state institution of higher education shall discriminate against an individual, including by excluding, penalizing, or segregating the individual, refusing to enroll the individual, or withholding from or denying to the individual any advantage, facility, good, opportunity, privilege, or service, based on either of the following: (1) Whether or not the individual has received one or more doses of a vaccine against COVID-19, including any of its variants; (2) Whether or not the individual uses a COVID-19 immunity passport."
Colleges that mandate the COVID vaccine in Ohio include Oberlin, Miami University of Ohio and Case Western Reserve University.
Lipps told the Higher Education and Career Readiness Committee his bill "was sparked by a constituent's story of having graduation withheld from a private university in Southwestern Ohio which Lipps did not name. The student was denied access to a clinical required for graduation because she had not received the COVID-19 vaccination," according to Ohio Capital Journal.
Forbes reported Jan. 1 that Lipps has "also introduced legislation that would ban COVID-19 vaccine mandates in elementary and high schools, despite the fact that mandates don't exist in them."
Lipps is not anti-vaccine, and in fact he is vaccinated against COVID.
It is my steadfast belief that the decision to take a vaccine, any vaccine, is a personal choice involving research, family discussions, medical history, and freedom of choice. I will fight for medical freedom.

Today I received my first injection at @AtriumMedCenter. pic.twitter.com/jJ1s9NaolS

— Scott Lipps (@LippsforOhio) March 27, 2021
However he has long maintained positions that support medical freedom.
"I am and will remain 100% opposed to forced mandates and employees being terminated or otherwise coerced for not getting a vaccine (particularly when they have a medical exemption)," Lipps said in a 2021 news release, adding "it is against my values as a conservative to promote government mandated vaccine or to encourage medically-exempt individuals to be discriminated against in the workplace because of a vaccine."
MORE: Group of professors urge University of California to rescind COVID booster mandate
IMAGE: Billions / Shutterstock
Like The College Fix on Facebook / Follow us on Twitter