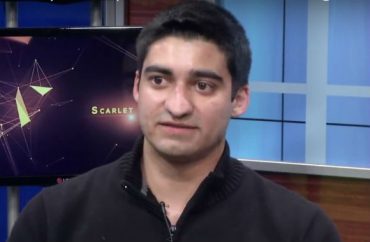 No condolence tweets, no campuswide safety alerts … 
It's been five days since a Buckeye was gunned down in what police say is a drug-related murder and the first homicide in Columbus in 2017.
Yet Ohio State campus leaders have appeared to largely ignore that one of their own has died: Tarak Underiner, a 20-year-old marketing and Spanish major and treasurer of Buckeyes for Concealed Carry on Campus.
This stands in stark contrast to campus leadership's typical standard operating procedure when the university is hit by tragedy or other big news.
Campus leadership generally quickly alerts students to crimes on and off campus, various campus protests, other student deaths, and similar situations through Buckeye Alerts, Public Safety emails, online postings, tweets and more.
Yet aside from a brief statement given to the news media, campus leadership has remained largely silent on Underiner, who before his death had actively lobbied for students to have the right to carry concealed firearms on campus.
According to police, the homicide appears to be drug related, and illegal drugs, weapons and cash were seized from the residence. Police say Underiner was shot multiple times Thursday night at his home near the campus. They have said they do not believe the murder was related to the university in any way.
*We want to reiterate that we do not believe this was a random fatal shooting. Anyone with info should call CPD's Homicide Unit 645-4730. https://t.co/ikSYdT7udS

— Columbus Ohio Police (@ColumbusPolice) January 5, 2017
MORE: Campus-carry activist at Ohio State shot dead near campus
Still, Underiner lived close to campus and his murder has rocked the Buckeye community.
But in the five days since the incident, the OSU Department of Public Safety has yet to email a public safety notice to students regarding what took place. In contrast, a public safety notice emailed to students in September documented a female's complaint of being fondled by an unknown man when he sat down next to her to charge his phone.
The Buckeye Alert system was also not used to text a warning students that the suspects were at large — and continue to be. However in December 2016, the system was used to warn students that a local prisoner had escaped and was loose near campus.
The university president and official Ohio State Twitter accounts have yet to tweet condolences about Underiner as of Sunday evening.
Yet when a protest to support the Second Amendment took place on campus in December, students were notified by a barrage of university emails, tweets and postings on the OSU website.
This horrific tragedy did garner a short "statement" that was not tweeted out on social media platforms.
"Our thoughts and prayers are with the family and friends of Tarak Underiner during this extremely difficult time," campus officials told the media. "We extend our deepest condolences. Counseling and consultation services are available for those in need of support."
Meanwhile, students continue to mourn Underiner's death.
On social media, many expressed their gratitude for his friendship, extended thoughts and prayers to the family, and shared his memorial fund, as well as Columbus Police contact information for those with tips and further info on the murder.
Don't let this get swept under the rug.. Prayers out to Tarak Underiner's family and friends.. https://t.co/IsEU6RbEfl

— Yunk (@michaelyunker7) January 6, 2017
My thoughts and prayers go out to the family and friends of Tarak Underiner. Hopefully the police bring the murderer to justice.

— Kristie Flissy (@kristieflissy) January 6, 2017
Please consider donating to a close friend of mine's family after tragedy struck a day ago. https://t.co/zS5grqXCIk

— Casey Kuhn (@CaseyAtTheDesk) January 6, 2017
Buckeyes for Concealed Carry on Campus also released a statement on Facebook on Thursday, and a club official declined to comment further to The College Fix, referring back to their statement.
"Tarak Underiner was both a personal friend of mine and a bright young man with a promising future ahead of him," the statement read. "His work as a member of Buckeyes for Concealed Carry on Campus to restore the right to self-defense on Ohio's college campuses put him in an elite class obtained by very few others in our movement."
MORE: Ohio State student: Instead of 'Run Hide Fight,' give me my Second Amendment right to bear arms
Like The College Fix on Facebook / Follow us on Twitter