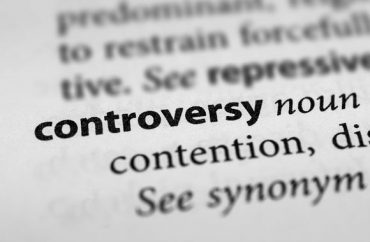 Student has since apologized
An Ohio State University sophomore is facing backlash, violent threats and possible sanctions from her sorority after a video of her using racist dialogue went viral on social media.
The 10-second video, taken Aug. 11, shows student Katelyn Rust talking into the camera saying "F*** yourself you are hooking up with a black girl. That's weird as f***. F*** you," The Lantern campus newspaper reports.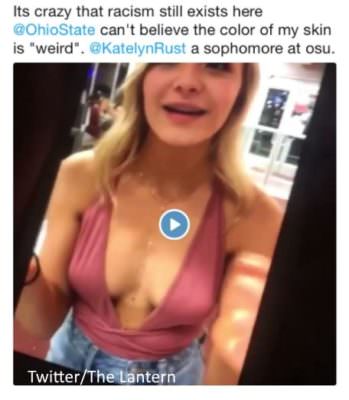 The short video was posted on Twitter by Aleigha Mason, a freshman at Miami University in Ohio, who had apparently danced with Rust's ex-boyfriend.
Mason tweeted: "Its crazy that racism still exists here @OhioState can't believe the color of my skin is 'weird'. @KatelynRust a sophomore at osu."
Mason told The Lantern she shared the video because "I just want her to understand that her comments are hurtful and not okay."
Meanwhile, a leader among Ohio State's Undergraduate Student Government was quick to condemn Rust's words. In a quote retweet of the video, Vice President Sophie Chang said "This type of behavior & rhetoric is unacceptable. @OhioState is home to so many & should not be made to feel any less due to skin color."
Others have taken to Twitter to voice disgust with Rust's comments.
In a tweet that has since been deleted, @stayflossy_ said "@KatelynRust I would really love for you to speak your comment about black girls being 'weird' to my face, and see how quickly I rock yours."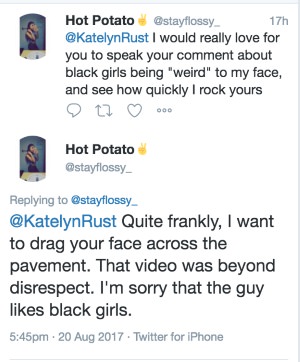 She added in a separate tweet, "@KatelynRust Quite frankly, I want to drag your face across the pavement. That video was beyond disrespect. I'm sorry that the guy likes black girls."
Another female tweeted, "@KatelynRust This blonde b**** needs to get a lit three-wick shoved up her a** so hard it explodes."
What's more, Rust is a member of Pi Beta Phi and her Greek leaders are "currently working through our member accountability process" to address the situation with the sophomore, Ohio State Pi Beta Phi President Tricia Gore told The Lantern. Several comments on the article have called for the sorority to punish Rust.
But some question whether Rust should face sanctions.
"So we should ruin a young girls life because she said something stupid when drunk? USG is retarded for thinking they need to condemn small stupid stuff like this. Get a life people," reads one of the comments under The Lantern article.
Another person commented, "Embarrassing…..for The Lantern, that is. Now 'journalists' just going to post videos of random people saying inappropriate things? This is so far out of bounds I don't know where to start. This is why no one trusts the media. Reporter is the one who needs to be fired. Of course, reporting like this will get you a job with MSNBC or CNN."
A member of the student government declined to comment to The College Fix on the matter.
Rust has since issued an apology to The Lantern that reads, "First and foremost racism is wrong. I, in no way, think that anyone is less of a person than anyone else because of their skin color, nationality, religion, sexual preference or otherwise and sincerely apologize for all the words in this twitter video."
"I have personally apologized to the young woman who posted this video and explained that my weird reference had nothing to do with her skin color. I was quite simply very hurt, and angry with an ex-boyfriend and jealous of her. Nothing more."
"Again, I say in the strongest possible terms that racism is despicable and I apologize for any hurt or pain this tweet caused this young woman or anyone else. I sincerely ask for forgiveness from this young women (sic), the OSU student body, faculty and alumni family."
Like The College Fix on Facebook / Follow us on Twitter