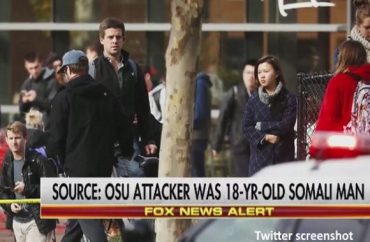 The Ohio State University student who allegedly ran over several students and stabbed others to defend Islam should not have been shot by police before he could hurt more people.
That's the explicit message coming from the OSU Coalition for Black Liberation, which added  Abdul Razak Ali Artan's name to a list of every person of color that has been killed by police since October, The Lantern reports.
The group periodically reads from the list in public, and it gave a "eulogy" for each name and held a moment of silence on Wednesday:
"In some cases, the deceased may have committed acts of violence against others before they were killed. Perhaps they were domestic abusers, perhaps they threatened or killed others. This possibility is not something to shy away from. The protest against police brutality extends to the innocent and the guilty alike, because we know that no matter the crime, justice and due process don't come from a cop's bullet," [Women's, Gender and Sexuality Studies major Maryam] Abidi said while reading the eulogy.
MORE: Police ID Ohio State attacker as 18-year-old student from Somalia
They defended a university diversity employee who has been criticized for threatening to unfriend anyone who "celebrate[s]" the death of an alleged attempted murderer and asking people to show "compassion" for the "pain" Artan must have felt:
"Even compassion has been politicized, as we saw with the diversity officer who's being attacked for daring to say let's show compassion towards a fellow Buckeye who made tragic, tragic mistakes," [Associate Professor of English Pranav] Jani said.
They were also encouraged to attend a socialist-sponsored rally against President-elect Donald Trump's visit to campus Thursday, where he is expected to meet with victims of the car-and-knife attack.
Protesters gather outside the Schott ahead of Donald Trump's visit with attack victims pic.twitter.com/H6f6K57CdM

— The Lantern (@TheLantern) December 8, 2016
MORE: OSU stabber praised terrorist, told America to leave Muslim lands
MORE: OSU student says Left is 'more scared of Trump than ISIS'
MORE: UC Merced mourns stabbing spree attacker Faisal Mohammad
Like The College Fix on Facebook / Follow us on Twitter