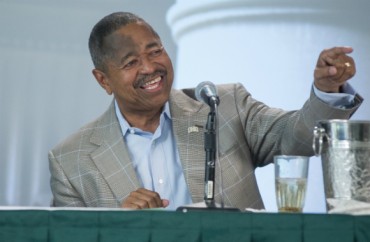 National ranking has plummeted over 12 years
There was a period in 2014 when The College Fix was full of stories about Ohio University – so many that an independent campus news organization, The New Political, interviewed me about it.
The big story then was the anti-Israel "Blood Bucket Challenge" by the student senate's president, Megan Marzec, and her arrest of Jewish students who criticized her at a meeting (the charges were dropped).
Remember these fun times?
There were other things happening then – one student official griped that her misidentification in a photo caption was (drum roll) racist, while a student journalism major (of all people) called for a ban on Yik Yak for its "bullying" (of course, anyone can use the social media app on their data signal.)
But another recurring storyline in the past few years is the scandal-plagued president, Roderick McDavis, who was advised by a major donor last year to "play the race card" to shut down his critics.
MORE: 'Play the race card' to silence your critics
McDavis basically declared open season on the College Republicans after they defended the propriety of pro-Donald Trump statements on the school's official "free speech wall." Yet he met right away with black student activists when someone painted over their "Black Lives Matter" message on that wall.
Now that McDavis is stepping down at the end of the academic year – his 13th as Ohio University president – his critics are growing even louder.
'Our decline in academic excellence is costing OU graduates, yearly'
The New Political reports that the knives came out at a Board of Trustees forum Tuesday on the search for its next president, where McDavis's record was picked apart by faculty.
One of the harshest criticisms came from Richard Vedder, a professor emeritus of economics and high-profile critic of higher ed spending and priorities.
MORE: Oh no! 'Black Lives Matter' painted over on 'graffiti wall'
He's spoken against "free" community college and the student senate's $15 minimum wage demand ("clueless"), but on Tuesday he pointed to Ohio University's plummeting national ranking under McDavis's leadership:
His findings indicated that since McDavis took office in 2004, OU's ranking [in U.S. News & World Report's tally] has fallen from 98 to 136, dropping an average of three spots per year. Vedder noted that Ohio State University rose in the rankings during this time period, and the gap between OU and Miami University grew.

"Our decline in academic excellence is costing OU graduates, yearly," Vedder said. "According to the U.S. Department of Education's scorecard, the average salary after attending OU is 39,500 dollars a year … Employers increasingly view Ohio University as a mediocre establishment instead of the public Ivy League it should be."
MORE: Ohio U. College Republicans under siege for free speech wall
Another longtime professor, Judith Yaross Lee, referred to administrative bloat in her own remarks:
We invest in many things at this university, we've invested in student services, I think in very good ways, we've invested in administration in many ways that have taken away from support for academics …
The director of the LGBT Center, meanwhile, demanded (what else?) a new president who will ensure every identity group – not just McDavis and his fellow black people – feels special and generously funded on campus.
"If we don't have a diverse faculty and staff, we can't diversify the student body," this person said. (I'm not naming "them" – preferred pronoun – because "they" refuse to capitalize "their" name, which is about as self-obsessed as you get.)
Word of advice to the trustees: Listen to Vedder and ignore the LGBT director. Ohio University's problem is academic mediocrity and administrative bloat, and students are suffering for it.
MORE: Outgoing black prof calls Ohio U. 'most racist place I've ever lived'
MORE: Mandatory 'cultural compentency' courses demanded at Ohio U.
Like The College Fix on Facebook / Follow us on Twitter
IMAGE: Ohio University Libraries/Flickr
Like The College Fix on Facebook / Follow us on Twitter