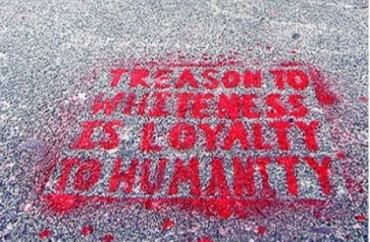 Referring to them as a "provocation," Harvard Law School Dean of Students Marcia L. Sells denounced the hanging of "more than a dozen" handmade "It's okay to be white" stickers at the school's Wasserstein and Hastings Halls on Wednesday.
According to The Harvard Crimson, the stickers may have been an orchestrated campaign begun on the website 4chan, which had "called upon followers to put up posters with the message in their area on Halloween night."
"Okay to be White" stickers also were discovered in "a handful of places" around the country the morning after Halloween.
Dean Sells said in an email that the stickers' message was "intended to divide us from one another":
"HLS [Harvard Law School] will not let that happen here. We live, work, teach, and learn together in a community that is stronger, better, and deeper because of our diversity and because we encourage open, respectful, and constructive discourse."
.@Harvard Btw, "it is ok to white". It's ok to be neat too. I hope your anti litter campaign isn't discriminatory. https://t.co/NaGxUNnsSJ

— capricorn1860 (@capricorn1860) November 2, 2017
In 2015, a vandalism incident featuring pieces of black tape placed over the portraits of black professors at the Law School spurred a broader campus dialogue about race on campus.

Most of the stickers appeared to have been removed by Wednesday afternoon.

When alerted about the stickers, Cambridge Police asked the Department of Public Works to remove them from Cambridge Common and Harvard Square, Cambridge police spokesman Jeremy Warnick told the Boston Globe.

Sells confirmed in her email to students Wednesday afternoon that the stickers at the Law School had already been removed.

This is not the first public posting suggesting the plight of white people in the United States at Harvard. In October 2016, an email with the subject line "Fight White Genocide – Vote Trump!" was sent to some undergraduates, prompting Harvard to call upon police to investigate. In November 2015, a Facebook page and posters on campus advertised a "White Student Union" at Harvard.
The Harvard Law School black tape incident likely was a hoax, and like other phony incidents was nonetheless used as one of those notorious race "conversation starters."
As for the stickers themselves, not counting the myriad college courses and workshops, the social media reaction to them kind of makes the stickers' point:
This isn't even "white supremacy." Just saying it's okay to be the race you were born as is apparently evil if you're White.
Such hatred. pic.twitter.com/eysr5C5sTf

— Baked Alaska™ (@bakedalaska) November 1, 2017
MORE: White sociology professor: It's racist for whites to have mixed-race children
MORE: USC professor defends tweet promoting violence against whiteness
IMAGE: Josh Parrish/Flickr
Like The College Fix on Facebook / Follow us on Twitter