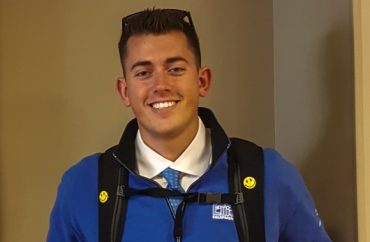 At a time when campus demonstrations are turning violent, students at one college have called for a truce.
More than 2,000 students at the University of Colorado Colorado Springs have taken an "inclusive campus pledge" that asks students to embrace differences, solve problems peacefully, and "listen" to peers of all stripes.
Despite the fact that the pledge calls on participants to refrain from "discriminatory language," organizers insist they are not trying to silence anyone or takes sides — in fact, just the opposite.
The goal, they said, is to encourage open discourse in a civil manner.
"We want the left, right, and everyone in-between to listen to opinions that are different than their own rather than spewing hate towards someone they may disagree with," said student body president Samuel Elliott (pictured above) who helped launch the pledge. "We want our campus community to embrace differences because we are stronger together."
Like at most schools, UC Colorado Springs was a hotbed of political tension in the months leading up to and after the election. Elliott and fellow student government member Jacob Hopkins sought to find a way to help the campus move forward in a positive manner post-election.
To that end, the inclusivity pledge comes with a ubiquitous yellow smiley face button that pledgees can wear. They're actually quite popular. The first batch of 2,000 buttons were quickly seized up and organizers had to reorder.
UC Colorado Springs student and College Republican Stephen Bates, who took the pledge, told The College Fix he has seen a lot of people wearing the button around campus, and "not just students, but faculty and staff too."
Bates said participation appears to be neutral across political parties.
"Everyone agrees that the pledge is a positive thing, especially with the fact that there was a very hostile political environment on campus following the election," said Bates, who also writes for The College Fix.
Elliott said he does not identify as a conservative or a liberal, nor is the pledge a conservative or liberal effort.
But the pledge does include political affiliation as a factor that should be tolerated and not discriminated against, and it also stresses the importance of diversity of thought, stating in part: "I pledge to listen both when I agree and disagree."
Like The College Fix on Facebook / Follow us on Twitter