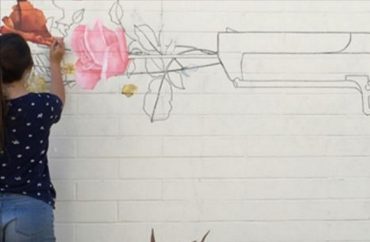 Artistic self-censorship — over one complaint
Move over comedy — art may be the new offense on college campuses.
Case in point: A mural of a gun shooting flowers was largely covered over after it was accused by one student of being an "emotionally triggering" image that threatens black students at Pitzer College.
"My Black Mental and Emotional Health Matters. I shouldn't be reminded every time I leave my dorm room of how easy my life can be taken away, or how many Black lives have been taken away because of police brutality. This is emotionally triggering for very obvious reasons," student senator Gregory Ochiagha had said in a mass email to students recently.
Original intent for the mural was to comment on peace movements during the Vietnam era with no intention to weigh in on police brutality.
Steven Glick, editor of the Claremont Independent, told The College Fix "it's nothing short of absurd that a Student Senator thinks a picture of a gun is racist, especially since the gun is part of a recreation of an iconic image used to promote peace during the Vietnam War era."
A few students quoted in the Independent, which first reported on the situation, also said the mural was pre-approved by an aesthetics committee, it falls under free speech, and its "flower power" thrust shines through.
But student artist Selena Spier agreed to re-conceptualize her masterpiece over the one complaint.
"I spoke with Gregory earlier and we agreed on a modification that preserves the integrity of the original piece while avoiding any potentially triggering content—it's a change I was absolutely happy to make in the interest of creating a safe and inclusive environment for everyone in my community," Spier told the Claremont Independent.
Not everyone agreed with the decision.
This modification completely destroys the integrity of the original piece. Seriously, what the hell is this now? pic.twitter.com/mTAztpEbC4

— Hannah Oh (@hannahoh16) April 20, 2016
Glick said he is "very disappointed that the artist caved in to Mr. Ochiagha's demands."
Campus administrators declined to take a side in the matter.
"The students involved have stated that they had a productive dialog about the mural and have settled on a resolution in the best Pitzer tradition," Anna Chang, a spokeswoman for the college, said in an email to The College Fix.
The mural, as originally envisioned, had been approved by a large group within the campus community.
"All artists must submit a proposal of their art, description and location for review and obtain approval by Pitzer's aesthetics committee which is comprised of faculty, students and staff representatives," Chang said.
RELATED: College's 'Zoolander 2' screening canceled because movie mocks 'marginalized identities'
Like The College Fix on Facebook / Follow us on Twitter