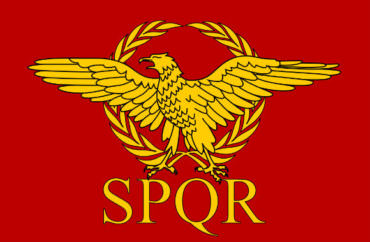 Students demand they cease and desist
Maybe this is the logical result of high schools and colleges not requiring students (even history majors!) to take a history course.
A group of vigilantes put a bullseye on a house near Ohio University in Athens by claiming that a flag flying from the property indicated "a Nazi" may live there.
The "People's Justice League" posted the phone number of the property owner and encouraged Facebook readers to demand the owner require the tenants to take down the flag.
It said the Southern Poverty Law Center identified the flag as a symbol embraced by "many fascist groups including Vanguard America."
That's actually the "Roman standard" flag, and the acronym SPQR translates as "The Roman Senate and People." It's not covered by the city's sign regulations because of Athens' interpretation of a state supreme court ruling on political flags.
Four Ohio University students – two of them history minors – live there and they don't want to be identified (for obvious reasons), The Athens News reports:
The student tenants, however, insist that the flag [which was stolen a few days after the Justice League post] is the remnant of a "Roman-themed" party they put on for the 21st birthday of one of the residents. The flag does not represent any hate-based organization or allegiance with any such organization, they said. …
They said Friday that they've been getting harassed and called "Nazi sympathizers" ever since the image of their house was posted online. All four residents openly admitted they are conservative supporters of U.S. President Donald Trump, but vehemently deny allegations that they are Nazi supporters, white supremacists, white nationalists, or members of the "alt-right" movement.
MORE: U.S. history often not required for history majors
Some commenters on the People's Justice League post questioned the vigilantes' knowledge.
"SPQR. Initials of a Latin phrase. It is all over Rome Italy. Is this just a BS post?" wrote one. "That's a flag representing the Roman Senate that is still in use today in Rome. Where is the Nazi connection here? Did anyone even google?" wrote another.
"It's a Roman flag. SPQR means Senatus populas que Roma. The Senate and people of Rome you dumb ass," wrote a third.
If the local vigilantes actually knew their history, they would recognize this was simply a "Roman legion flag" and that this particular flag is missing the "fasces" symbol on the flag highlighted by SPLC (below), the students said. They described theirs as a "party flag" they bought on Amazon.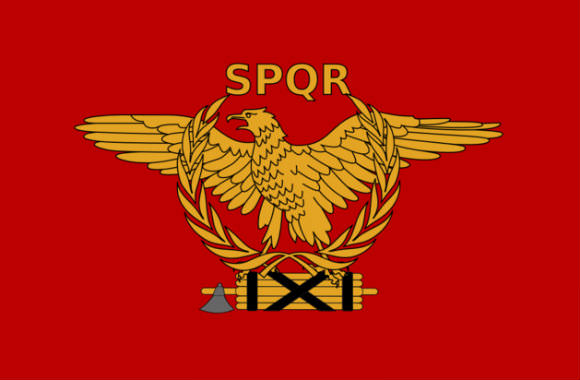 They sent the vigilante group a cease-and-desist letter and demanded a public apology:
"Most of the tenants … possess an avid interest in history, particularly Roman history… In your own photograph proving we are 'supremacists' a keg can clearly be seen on the left-hand side of the stairs. We also possess invitations, which we will release assuming respectable discourse with your organization has been established."
The Athens News reporter apparently asked the students why they bothered to leave up a flag that could be confused with another adopted by white supremacists.
They responded that they were acting on "principle" against a "group of people [who] are harassing, intimidating, and otherwise displaying signs of bigotry towards us based upon our supposed beliefs."
Dueling police reports have been filed: One against the students for their "hate speech," and another by the students alleging they've been harassed on their property, called "Nazis" online and had "anti-racism" packets placed on their porch.
MORE: Students come into this prof's class with 'little knowledge of U.S. history'
Like The College Fix on Facebook / Follow us on Twitter