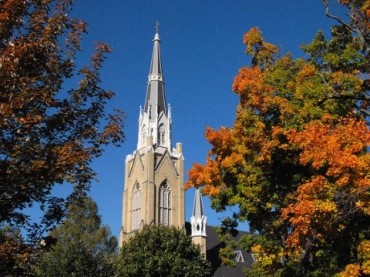 In the wake of recent news that a relatively new student group at the University of Notre Dame formed to defend traditional marriage has been denied official recognition as a campus club at the Catholic institution, a recent grad and founding member of that group – Michael Bradley – has penned an editorial voicing concern over the iconic institution's apparent identity crisis.
Bradley, a former College Fix contributor who graduated magna cum laude from Notre Dame with a BA in philosophy and theology and who also served as editor-in-chief of Notre Dame's independent student newspaper, the Irish Rover, writes in Public Discourse:
When essential truths are at stake, administrators and (Gender Relations Center) officials stand silently by as the student "peer educators" tasked with facilitating informed, civil discussion of tough issues routinely oppose student efforts to affirm orthodox Christian teaching on marriage and sexuality.

Attempts to tackle these issues head-on are met with calls for disbandment, and such calls are heeded by university officials. Notre Dame administrators then wield politically correct rhetoric as a weapon against students who are concerned that all the emphasis on campus "inclusion" has caused important, loving truths about the human person to be lost. These truths compose the good of those students perhaps least inclined to feel "welcomed" by them.

Notre Dame's pastoral ministry must be rooted in the truths of human nature and human goods, and man's supernatural end. Pope Saint John Paul II once said that "pastoral concern means the search for the true good of man, a promotion of the values engraved in his person by God."

Unfortunately, it seems that Notre Dame has firmly, if quietly, commenced its slow surrender to a sexual ideology that, once internalized, will ensure that students at Notre Dame wander as sheep without their shepherds.
Like The College Fix on Facebook / Follow us on Twitter
IMAGE: NDomer73/Flickr