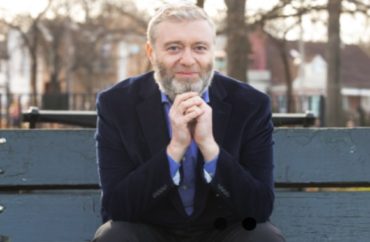 Professors continue their legal battle against New York union
The battle by six City University of New York professors to stop their union from collecting dues took a step forward recently as oral arguments began in front of the United States District Court for the Southern District of New York.
The complaint is lodged against the Professional Staff Congress union by the CUNY professors, five of whom are Jewish. The scholars argued they are unfairly represented against their will and wishes by what they contend is an antisemitic labor union.
The latest round in court took place Oct. 26 as the case, Goldstein et al v. PSC, challenges New York's Taylor Law, which requires union representation. The lawsuit challenges the law on the basis of freedom of association rights under the First Amendment.
The lawsuit requests that the district court declare Section 204 of the Taylor Law unconstitutional because it "requires or authorizes PSC to be Plaintiffs' exclusive representative."
Plaintiffs Avraham Goldstein, Michael Goldstein, Frimette Kass-Shraibman, Mitchell Langbert, Jeffrey Lax and Maria Pagano are represented pro bono by the National Right to Work Foundation and The Fairness Center, according to NRTW spokesperson Jacob Comello.
The foundation's legal team states the union's deduction of money from the plaintiffs' paychecks violates the 2018 U.S. Supreme Court case Janus v. AFSCME, which ruled non-union government employees cannot be obligated to pay union fees.
The six professors, who are not members of the union, take issue with PSC's "ideological and political advocacy," according to the lawsuit.
One such instance of this advocacy can be found in a June 2021 "Resolution in Support of the Palestinian People," which the plaintiffs viewed as "anti-Semitic, anti-Jewish, and anti-Israel," the suit states.
The initial complaint also states that Goldstein "has experienced anti-Semitic and anti-Zionist attacks from members of PSC, including what he sees as bullying, harassment, destruction of property, calls for him to be fired, organization of student attacks against him, and threats against him and his family."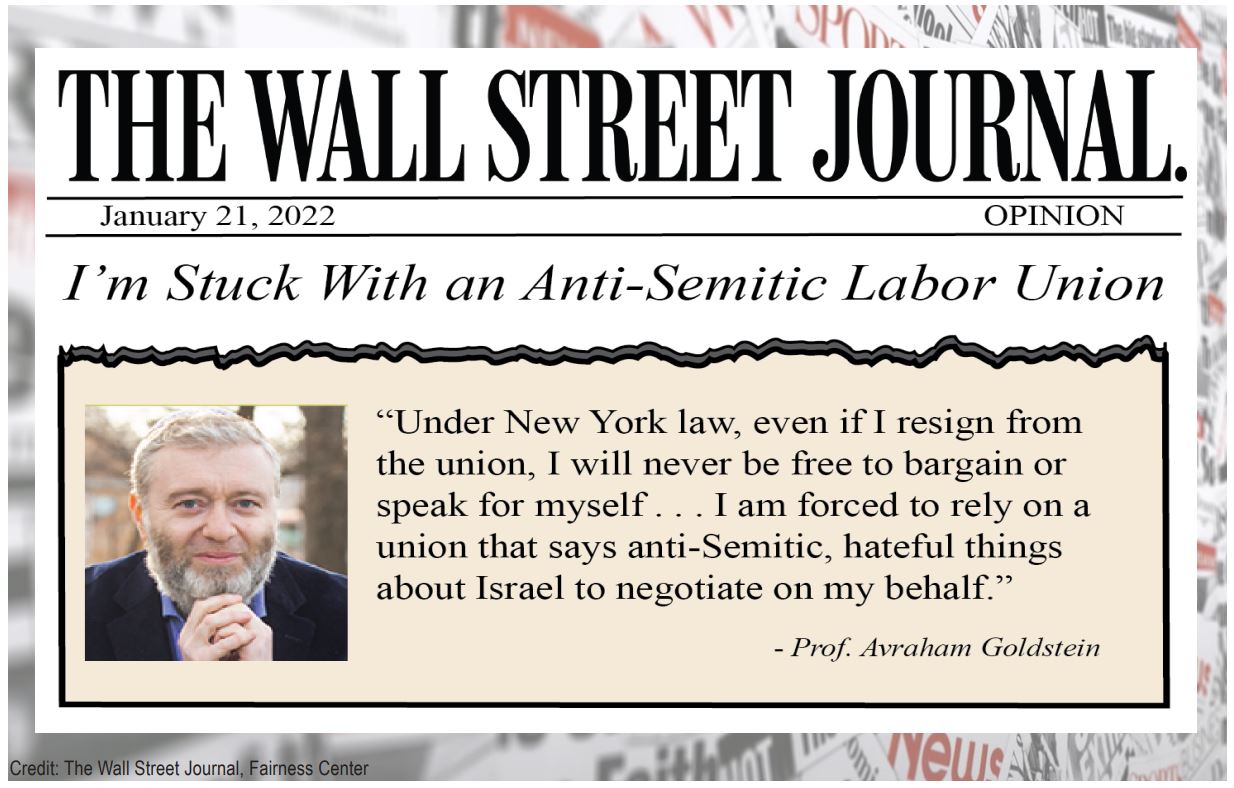 The union did not respond to a request from The College Fix seeking comment.
The PSC called the suit "meritless" and claimed it "is part of another round of lawsuits against unions coordinated by anti-union groups," The Ticker reported in late September.
National Right to Work Foundation President Mark Mix stated in a news release when the lawsuit was first filed in January that the coerced unionization is "deeply offensive" to the plaintiffs' "most fundamental beliefs."
Because of this, the state's law should be challenged, he said.
"New York State's Taylor Law authorizes such unconscionable compulsion," Mix said. "It is time federal courts fully protect the rights of government employees to freely exercise their freedom to dissociate from an unwanted union, whether their objections are religious, cultural, financial, or otherwise."
MORE: New York professors sue to stop forced dues extraction by 'anti-Israel' union
IMAGE: Courtesy of The Fairness Center
Like The College Fix on Facebook / Follow us on Twitter