Via Peter Bonilla of the Foundation for Individual Rights in Education (FIRE), who tweets "please let that be a joke flyer":
The University of Oregon is apparently soliciting law students to serve as "neutral observers" at "protests, rallies, and demonstrations" on campus, according to the blog UO Matters, which is frequently critical of the administration.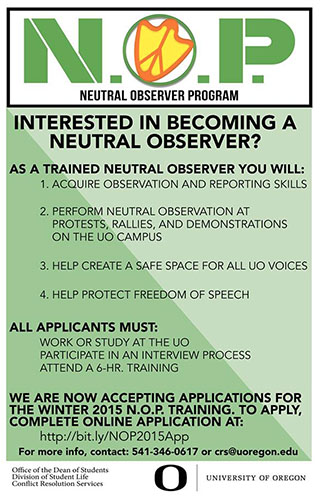 The point of neutral observers is to provide a "calming effect" at events where safety is at risk, the school says: "The presence of trained observers at these events allows for the availability of unbiased witnesses should there be any form of escalation."
They help "create a campus environment in which all voices can be heard" and "protect individual's freedom of speech," the school says.
While the program has been around since 1990 and it's modeled after similar programs at the University of California-Berkeley and University of Colorado, UO Matters – run by controversial UO economics professor Bill Harbaugh – says the timing of the announcement is curious.
The administration has dealt with a lot of escalation-prone situations, including graduate teaching fellows who are considering a strike that could wreck finals week and campus anger about the school's handling of rape allegations against three basketball players.
UO Matters says the flyer matches the administration's "increasing bunker paranoia."
The comments on the blog are interesting, with two accusing Harbaugh of unfairly tarnishing the program. One even says he should "edit/delete this post because I don't want the program to get a bad rap."
What draws my interest more is what the school will tell the "observers" during their six-hour training. As FIRE has noted recently on the subject of sexual-assault investigation training, schools don't always teach neutral practices to designated fact-finders.
If any readers happen to go through this program at UO, let us know.
Greg Piper is an assistant editor at The College Fix. (@GregPiper)
Like The College Fix on Facebook / Follow us on Twitter
IMAGE: UO Matters
Like The College Fix on Facebook / Follow us on Twitter