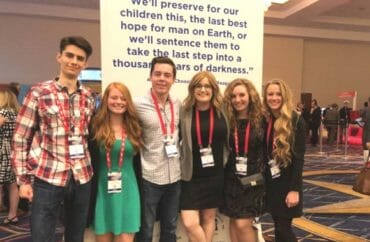 'If anyone tries to tell you conservative ideas are allowed on college campuses, show them the before and after pictures in this feed. In under a week we had our modest and uncontroversial display vandalized with hostile responses, and eventually torn down almost completely'
NORTHFIELD, Minn. — This week my school's College Republicans and Turning Point USA chapters at St. Olaf College decided to put up a display we called "Why I'm a Conservative."
It featured expressions from myself and other group members such as "All human life has value," "Facts > feelings," "I love economic freedom" and "I pay taxes." Additional signs invited students to "come speak your mind" at our weekly meetings, listing the time we meet and room number. Others said "Just because you are offended, doesn't mean you are right."
The very next day, one sign with the Second Amendment written on it and another saying "capitalism cures poverty" were torn down. That same day, a female student approached me and said "Nice display!" I replied "Oh, thank you!" in a cheery tone, happy to have reached students I did not know.
"I'm f*cking kidding" she snapped back, and marched away.
"Oh no, what's wrong with it?" I shouted after her, to no avail.
By Wednesday, other students had made their own signs in response to ours, and peppered our administration-approved exhibit with their own rhetoric.
MORE: Conservative St. Olaf students 'violently threatened'
In response to our "All human life has value" sign, a student posted "except for immigrants, trans people, homosexuals, non-binary people, gun massacre victims, the elderly or the poor right? Again, just making sure we're on the same page?"
Another one, hand-written this time, read "I'm going to generalize you, but don't you dare generalize me, not all conservatives are racist hicks REEEEEE."
Wednesday pic.twitter.com/x38a4P2Z6O

— Kathryn Hinderaker (@KathrynHindy) March 16, 2018
Nevermind an email sent to the college community late last month from Dean of Students Rosalyn Eaton reminding every student about the posting policy.
"Our policy prohibits individuals from altering or damaging displays that have been authorized for posting. If you believe a posting violates college policy and should be removed from public display, you should contact the Dean of Students Office. You may not take it upon yourself to alter, damage, or destroy another student's work," Eaton had stated.
"The college is also committed to allowing members of this community to express themselves, assemble, protest, and voice their dissent while maintaining a safe environment for all students," it added.
I told Dean Eaton about the vandalism, who called this behavior "unacceptable" and instructed me to fill out a "bias incident report." There has thus far been no action taken by the school, but she has assured me college leaders are "working to find out what they can."
Meanwhile, our display has pretty much been completely destroyed, every handmade "reason" torn down. Nearly the only thing left are the letters "I'm a conservative because …"
Friday pic.twitter.com/q6pRqILPKC

— Kathryn Hinderaker (@KathrynHindy) March 16, 2018
I published before and after pictures on Twitter, noting that "if anyone tries to tell you conservative ideas are allowed on college campuses, show them the before and after pictures in this feed. In under a week we had our modest and uncontroversial display vandalized with hostile responses, and eventually torn down almost completely."
I'm definitely disappointed, but the vandalism is not unexpected. Everything we've ever put up in my time at St. Olaf College has been torn down relatively quickly.
But in this latest incident, our group put a lot of work into this display, and we hoped the campus would be more receptive to our plea for dialogue. It's disappointing that students are unwilling to engage in conversation, and prefer to silence voices they disagree with instead.
MORE: At St. Olaf, conservative students silenced
MORE: Racist note that prompted St. Olaf College shut down is hate-crime hoax
Like The College Fix on Facebook / Follow us on Twitter