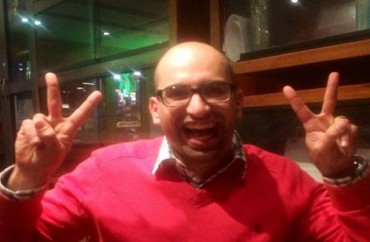 It appears the saga of virulently anti-Israel professor Steven Salaita has come to an end, at least as it pertains to the University of Illinois.
The professor, whose job offer to the U. of Illinois-Urbana Champaign was rescinded after his rabidly anti-Israel/anti-Semitic tweets came to light, had quickly taken up the mantle of "academic freedom," and then eventually sued the school.
The Chronicle of Higher Education reports:
A settlement between the University of Illinois and Steven G. Salaita will pay the professor, whose tenured-job offer at the Urbana-Champaign campus was revoked last year, $600,000 to drop two lawsuits. The University of Illinois Board of Trustees on Thursday approved the settlement, which also stipulates that the university pay Mr. Salaita's lawyers $275,000.

As part of the settlement, Mr. Salaita also agreed to "neither seek nor accept employment at the university now or in the future."
RELATED: Salaita files motion against U. of Illinois charging intentional destruction of evidence.
"The university believes that reaching a settlement with Dr. Salaita is the most reasonable option to fully and finally conclude all of the pending issues," the university's interim chancellor, Barbara Wilson, said in a written statement announcing the settlement. "Although the amount is significant, it is less than what we would spend if the case were to continue and proceed to trial over the next year."
Despite Chancellor Wilson's desire to move forward, The Chronicle notes it may not be that simple:
The [scholar] boycotts and the AAUP censure have led speakers and scholars to cancel their appearances and have caused job searches for some faculty positions to be suspended because of a lack of qualified candidates.

The AAUP censure will remain in effect until at least June, which is the next time the organization's committee on academic freedom and tenure will meet, according to Anita B. Levy, its associate secretary of academic freedom, tenure, and governance. If the committee recommends lifting the censure, the members would also have to approve it.
Read the full Chronicle articles.
RELATED: U. of Illinois censured by AAUP over Salaita job cancellation.
IMAGE: Facebook
Like The College Fix on Facebook / Follow us on Twitter