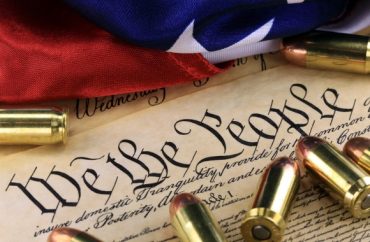 RJ Martin isn't a College Republican or member of a campus gun rights group.
Yet the young man recently took an unpopular stance against his student government peers on Ohio State's Undergraduate Student Government. The group passed a resolution to oppose concealed carry on campus in a vote of 29 for, two against, and two abstentions.
Martin was one of two votes against the measure.
In an interview with The College Fix, the student senator said he sees himself as having a common sense approach to gun issues, and that peers misunderstand concealed carry.
Calling himself a "believer in the Second Amendment," he said he did not think his fellow senators "understood the definition of concealed and how that means you cannot walk around with a weapon in plain sight."
The debate comes as recent student deaths at the hands of violence have rocked the Ohio State community and a new controversial state law has brought the issue to the forefront.
This law gives campuses discretion to allow students to carry a concealed weapon if university policy allows it. It was fast-tracked after a Somali refugee student ran over and stabbed students at Ohio State in late November in an apparent defense of Islam.
In response to the new state law, Ohio State's student government passed a resolution Jan. 25 reaffirming its opposition to concealed carry on campus. Ohio State prohibits concealed carry and does not have plans in the works to change the policy.
Meanwhile, the recent loss of two students' lives has shaken the Ohio State community and continues to keep the gun rights topic alive on campus.
Tarak Underiner, a 20-year-old student and member of Buckeyes for Concealed Carry on Campus, was murdered at a residence near campus in early January. Last week, student Reagan Tokes, 21, was kidnapped, raped and murdered.
"In a just and sane world, Reagan Tokes would have been taught not to fear firearms, but to accept them as tools for her defense," Buckeyes for Concealed Carry on Campus posted on Facebook in response to her death. "In a just and sane world, Reagan Tokes would have grown up in a culture that supported her right to self-defense and a culture that promoted such."
Underiner had testified at the Ohio Statehouse in December for the right to allow concealed carry at public universities. During his testimony, he stated that "college campuses and the areas surrounding them present environments rich with potential victims. They're willing to gamble we're unarmed and it pays off."
Martin, who voted to defend campus carry, said he does not believe that having concealed carry on campus increases the likelihood of a violent attack, as some of his peers suggest. He told The Fix that the likelihood of an attack occurring on campus is "equal in an environment where concealed carry is not allowed."
Martin said he also disagrees with the notion pushed by some students that they're fearful at the thought of a weapon nearby and that it inhibits learning.
"If mentally stable students are able to conceal a personal weapon (which they are constitutionally granted the right to) there is absolutely no reason to think that they would use that weapon to harm someone over a contentious topic in class," he said in an email to The Fix.
Regarding the attack on campus last winter, Martin called it a "very isolated incident that no one could have predicted or prepared for" but that "those who would prefer to carry a concealed weapon would have felt safer in the event of a campus-wide emergency lockdown."
The other student who voted against support of the concealed carry ban declined to comment for this article.
MORE: Ohio State student: Instead of 'Run Hide Fight,' give me my Second Amendment right to bear arms
Like The College Fix on Facebook / Follow us on Twitter