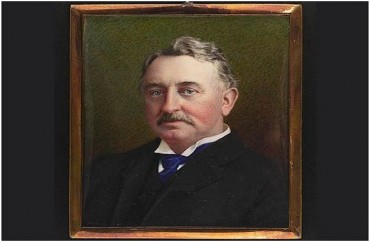 Oriel College at the University of Oxford in England has removed a commemorative plaque of Cecil Rhodes — he of the well-known and famed Rhodes Scholarship — because he was an "ardent advocate of colonialism."
Students also want a statue of Rhodes taken down, but in this case the college said it will "conduct a 'six-month listening exercise' to hear from students and faculty as to what to do with the [it]."
HuffPost Black Voices reports:
Rhodes was a mining magnate and ardent advocate of colonialism who founded the colonial territory of "Rhodesia," now Zimbabwe and Zambia. He was a student at Oriel College, Oxford between 1873 and 1881, and left 2 percent of his income to the College upon his death in 1902. He also endowed Oxford with the prestigious Rhodes Scholarship, which has allowed nearly 8,000 international students to study at the University.

The plaque, which has been on the campus since 1906, was removed thanks to a petition from Rhodes Must Fall In Oxford, the BBC reports. An official statement released by Oriel College on Thursday identifies Cecil Rhodes as "a 19th-century colonialist whose values and world view stand in absolute contrast to the ethos of the Scholarship programme today, and to the values of a modern University."
RELATED: Students demand Thomas Jefferson statue removed from university, call him 'racist rapist'
Oriel College's statement said that "the historical fact of Rhodes's bequest to the College does not suggest celebration of his unacceptable views and actions," and said they are committed to improve the "representation and experience of BME (Black and Minority Ethnic) students and staff." The college also said they will conduct further outreach with BME students and would fundraise for graduate scholarships for African study.
The group Rhodes Must Fall In Oxford complained about the delay in removing the Rhodes statue, and posted on its Facebook page  "We reiterate that universities are no places for genocidal colonialists, or any other such toxic figures."
RELATED: U. of Texas to relocate statues after Sons of Confederate Veterans injunction denied
RELATED: U. of North Carolina's 'Silent Sam' statue vandalized yet again
Like The College Fix on Facebook / Follow us on Twitter
IMAGE: BiblioArchives/LibraryArchives/Flickr