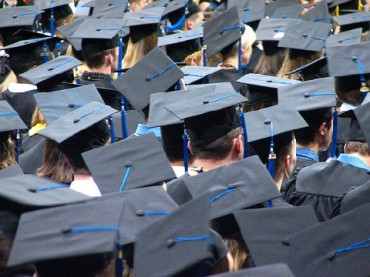 No, the noted cultural pontificator didn't personally speak to the New Jersey college's graduates (who didn't get the chance to hear Condoleezza Rice due to a few vocal protesters). But that didn't prevent him from offering his advice anyway.
Writing in The Daily Beast, O'Rourke offers these pearls of wisdom:
I hear Condoleezza Rice stood you up. You may think it was because about 50 students—.09 percent of your student body—held a "sit-in" at the university president's office to protest the selection of Secretary Rice as commencement speaker. You may think it was because a few of your faculty—stale flakes from the crust of the turkey pot pie that was the New Left—threatened a "teach-in" to protest the selection of Secretary Rice.

"Sit-in"? "Teach-in"? What century is this?

I think Secretary Rice forgot she had a yoga session scheduled for today.

It's shame she was busy. You might have heard something useful from a person who grew up poor in Jim Crow Alabama. Who lost a friend and playmate in 1963 when white supremacists bombed Birmingham's Sixteenth Street Baptist Church. Who became an accomplished concert pianist before she tuned her ear to the more dissonant chords of international relations.

She rose from assistant professor to provost at Stanford. (Ranked fifth-best university in America by U.S. News & World Report. You're ranked 69th.) While she was doing that, she also served, from 1989 to 1991, as the Soviet expert on the White House National Security Council under President George H. W. Bush.

1989 happens to be when the Berlin Wall fell. I know, I know, most of you weren't born, and you get your news from TMZ. A wall falling over can't be as interesting as Beyonce's sister punching and kicking Jay Z in a New York hotel elevator. But that 1989 moment of "something there is that doesn't love a wall" (and I'll bet you a personal karaoke performance of Beyoncé's "Single Ladies (Put a Ring on It)" that you can't name the poet who wrote it) had interesting consequences. Stop taking selfies and Google "Berlin Wall" on the iPhones you're all fiddling with.
Like The College Fix on Facebook / Follow us on Twitter