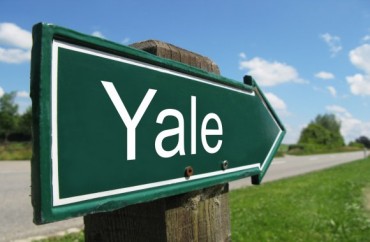 Paintings of John C. Calhoun, Yale class of 1804, will be taken down from the Calhoun College dining hall and from the College's master's residence, the Yale Daily News reports.
(Wait — I thought "master" was a no-no at Yale now. Guess not completely. Yet.)
Calhoun was the seventh vice president of the US and a "notorious slavery advocate."
Calhoun Master Julia Adams told the Daily News that she "decided to remove the portraits to address student complaints about the problematic racial symbolism of artwork that many in the college also find visually unappealing."
Adams added that she will consider a number of possible replacements for the portraits — including student artwork and professional paintings with racial-justice themes — once the University settles the naming dispute this spring.

Jock Reynolds, the director of the YUAG [Yale University Art Gallery], visited Calhoun on Wednesday to discuss the three portraits with Adams. After examining the paintings, which he said require significant cleaning, Reynolds agreed to place them in storage at the YUAG while the Yale Corporation — which has final jurisdiction over the college's naming — weighs the naming dispute.
RELATED: Due to their 'racial overtones': Yale to debate name changes to buildings and titles
The three portraits are not the only objects in the college honoring the former vice president. As of this week, Adams said, the college dean will no longer use a ceremonial mace cane that once belonged to Calhoun. She added, however, that it is not within her power as master to replace the dining hall's stained-glass windows, which depict slaves picking cotton, because they are part of the structure of the building.
The removal of the paintings "ha[s] received largely positive reviews from students and faculty interviewed." Some professors said that, unlike renaming the entire College, the portraits' eviction isn't "an erasure of history."
Yale has been debating erasing Calhoun's name from various arenas since last summer.
Interestingly, in a Yale Daily News poll from mid-September, 45% wanted to keep Calhoun's name around, while 40% wanted it gone. 15% "didn't know."
RELATED: Yale students choose history, tradition over political correctness
Like The College Fix on Facebook / Follow us on Twitter
IMAGE: Shutterstock