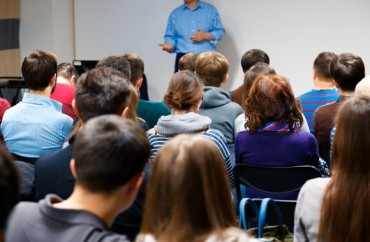 A panel discussion at UCLA on Saturday held to mark the one-year anniversary of the university's mandatory diversity course requirement prompted professors to acknowledge and bemoan some of the struggles they face in teaching their various courses.
The panel included eight professors who either teach a course currently designated as fulfilling the requirement or who teach a class that will soon be designated as such, including "Understanding Whiteness in American History and Culture," Hormones and Behavior, "Asian American Personality and Mental Health" and "Information as Power."
When discussing enrollment, associate professor of psychology Anna Lau, who teaches "Asian American Personality and Mental Health," said her class had nearly "90 percent Asian American enrollment." History professor Eric Avila said his "Understanding Whiteness" course only had "about 3 or 4 white students." He later mentioned white students clearly felt uncomfortable at times being "the subject of the scholarly gaze."
Professor Yuen Huo, who teaches a course called "Psychology of Diversity," said her student pool is affected by the fact that students "self-select" when enrolling.
"There is not enough divergence on opinions. I have to play devil's advocate," she said. Expanding on her thoughts in a comment to The College Fix, Huo wrote, "I feel that the class, which is based on empirical evidence, would benefit if students challenge their starting assumptions, whatever they may be."
Professor Lau had expressed similar sentiments, calling her students a "relatively homogeneous group. It is like an echo chamber."
At one point, the discussion turned to the "internationalization of the classroom," likely referencing the large number of foreign-born or foreign-national students who attend UCLA.
Lau recalled a situation during which a foreign student asked "what if the reason black males are incarcerated more than whites is because they commit more crimes?" She said there was a total silence in the room. She then stated she wished she knew how to answer, because hard questions should be asked.
Shortly after, Assistant Professor Safiya Noble stated "we cannot let unsophisticated comments stand." She said that as a faculty in residence for the "Afrikan Disapora" dorm floor, she has learned that "those questions outside the norm make black students feel not just microaggressed, but actually aggressed."
Noble, who teaches an Information Studies course on power and race in technology, described her class as follows: "My students are confronted with the reality that Google is not their friend. Everyday practices of discrimination are built into technological systems." She also said they talk about "racist surveillance."
RELATED — EYEWITNESS ACCOUNT: UCLA's protest against 'oppression' offered echoes of a race war
Professor Negin Ghavami said that in her class, "We spend the first week discussing which gender pronouns [each student] prefers. This is a foreign concept to most psychology majors."
Professor Aaron Panofsky said "I try to provoke them past their colorblind priors. Then we show them how race really does matter. [Colorblindness] is a great ethos that doesn't really practically work."
In discussing resistance to their courses, Professor Avila retold a story from 1998 when a student in his class "worked with David Horowitz" and was "involved with Bruin Republicans." He said the student told the news about his class, and "Fox News reporters showed up at my door."
Through the nearly two-hour talk, there were several recurring themes.
At least four professors requested "additional resources" in the form of more TAs in order to better teach their class. Avila said he designed his class to be half-lecture, half-discussion, and he leads the discussions himself. He then added: "I hope I can have my own TAs, so that I can focus on what professors actually are supposed to be doing." Avila also mentioned his "whiteness" class should be integrated into more courses across campus.
RELATED: Meet the professor who gladly left UCLA and hasn't looked back
The panel discussion was one part of a larger, daylong event to mark the one-year anniversary of UCLA diversity requirement. The undergraduate requirement, which was passed through the Academic Senate in a contentious process last year, was criticized by opponents as a threat to academic freedom and fiscal sustainability and lauded by supporters as a victory for "equity, inclusion and campus climate."
The talk was held in the UCLA Faculty Center, and an invitation was sent out to all faculty and students. The event was organized by the Diversity Initiative Steering Committee, which appears to be an official branch of the UCLA administration. Jerry Kang, vice chancellor of equity, diversity and inclusion, was a main speaker at the event. About 200 students and professors took part.
RELATED: Nothing short of forced interaction with different races will satisfy these UCLA whiners
Like The College Fix on Facebook / Follow us on Twitter