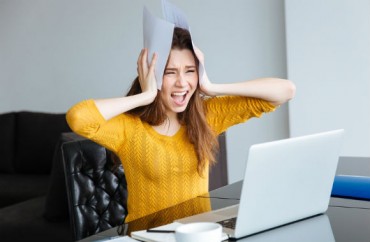 A conversation with a self-described queer, multiracial, mentally ill sexual-assault survivor
As she describes herself, Avegail Muñoz is facing a stacked deck.
The Columbia University student is a "queer, multiracial woman of color" as well as a "low-income, first-generation student."
She suffers from "multiple mental illnesses" and is a "survival of sexual assault."
And she's mad that people are telling her to stop being so politically correct, as Muñoz wrote in an op-ed for the Columbia Daily Spectator last month.
Muñoz made several troubling allegations about how Columbia treats students like her, so I reached out to her on Facebook for more details about her experiences. In the end, she provided only three examples of attacks on students like herself: vandalism of a pro-transgender bulletin board, too many white professors and the stress of college.
Set off by a popular New York Post article
While admitting that she is "privileged" to be attending a school of Columbia's caliber, Muñoz wrote that the university is not the bastion of "inclusivity" that it claims to be.
RELATED: Supposedly racist sexual-consent poster gets a collective yawn from Columbia students
Students with "marginalized identities" are constantly told by the larger culture that they are "nitpicking" and being "too politically correct" when they complain about the microaggressions directed at them, she wrote, citing a microaggression-mocking column in The Guardian.
Muñoz's riposte is that not everyone sees PC culture as superfluous when students like herself still have to deal with "hate crimes" and "hateful biases" in the Columbia community.
Though she frames her op-ed as a response to the Guardian column, Muñoz told me it was actually a New York Post column by a fellow Columbia student in November that set her off.
Alexandra Villarreal wrote that Ivy League students are obsessed with "identity politics," citing a fellow student who complained she had to study "oppressive texts with a white professor." Such students denigrate her own Mexican heritage "because of the gradation of my skin," Villarreal claimed.
"I came across this piece on Facebook because a lot of my friends were sharing it on their timelines in support of it," Muñoz told me. "I had somewhat felt the attitude towards me every so often, but this piece, and the overwhelming number of friends I had supporting it, really confirmed my suspicions."
White males make you look at issues as 'us vs. them'
Muñoz wrote in the Spectator that she was bothered that there is "not a single professor that looks like me," but that would be a challenge: She's a mix of Filipino, Portuguese, Chinese and Cuban.
She's not bothered by the lack of ideological diversity at Columbia, just race. "I am in my second semester of my freshman year and I have not yet had any professor of color–except for when I took Intro to African American Studies," Muñoz told me.
Asked to explain her Spectator claim that her voice had been "muffled" when she speaks out, Muñoz said her professors are usually white and male, thereby forcing her to look at the situation as "us vs. them." Nobody has literally silenced her or limited her speech, Muñoz clarified.
"There have been multiple incidents in which several microaggressions have been made, by both professors and students, and they were not addressed, often at the discomfort of myself and other students," Muñoz said, but she didn't provide any specific examples nor gave any instances of bias on campus except for the signature incidents she mentioned in her op-ed about "hate crimes directed toward the transgender community."
The Spectator reported that a dorm bulletin board "to promote Trans Awareness Month" was vandalized a handful of times last fall, though no one claimed responsibility. The final act was a piece of paper taped on the board that read "I RESPECTFULLY QUESTION THE VALIDITY OF TRANSGENDER IDENTITY!"
RELATED: Anti-capitalist professor makes students buy his book, then ignores it in class
Muñoz told me that Columbia seemed to downplay the incidents as "not worth any fuss." She said Columbia's handling of any similar incidents in the future should be "a lot more comprehensive."
The dorm instituted "mandatory floor meetings" to discuss the incidents and replaced all bulletin board messages with pro-LGBT or trans-specific messages, while two school offices promoted LGBTQ resources in several days of tabling, the Spectator said.
Political correctness – through dialogue or coercion?
Asked about her "several mental illnesses," Muñoz told me she suffers from depression and "still continue[s] to suffer with awful anxiety that is usually incited in social and/or stressful situations."
Muñoz declined to elaborate on her past with sexual assault, simply telling me she knows "all too well" the dangers that "especially women" at Columbia face. "We feel as if we have no one to turn to when it comes to discussing sexual violence perpetuated upon us, because we ultimately get the blame."
She believes that by reaching out and having conversations about the importance of political correctness, she can change people's minds about why it's necessary.
It all comes down to people "sharing their personal experiences," Muñoz said.
I hope that Muñoz turns out to be right – that political correctness is fundamentally a dialogue, rather than a movement that uses implied force and coercion as its implementation mechanisms.
RELATED: Columbia student: Why I'm worried about the 'triggering' threat to the Core
Like The College Fix on Facebook / Follow us on Twitter
IMAGE: Dean Drobot/Shutterstock, Avegail Muñoz/Facebook