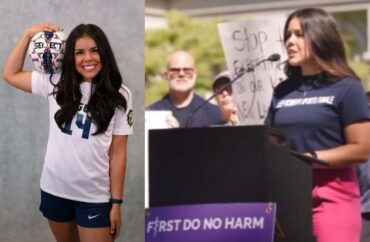 'We must protect our sisters and daughters in bathrooms, locker rooms, and sports teams. Silence is not an option.'
An effort in California to ensure girls' athletic programs are only open to female athletes has a young, energetic face helping lead the public campaign to drum up support.
Activist Sophia Lorey, a 23-year-old former collegiate athlete, is lending her voice to support the "Protect Girls' Sports and Spaces Act," a would-be ballot initiative still in its early stages in the Golden State.
The act seeks to require sex-segregated locker rooms, bathrooms, athletic teams and competitions, and use of such facilities must be "consistent with his or her gender identity, irrespective of the gender listed on the pupil's records."
Lorey played soccer at the private, Christian Vanguard University in Southern California. She started her soccer career at age 4, continuing through her formative years and into high school, during which she played varsity all four years as well as played on some of the highest ranked club teams in California, she said.
Now, she said she wants to help protect the same opportunities she had growing up for her fellow "sisters and daughters."
"My heart breaks for the current girls that will not have the ability to just play the sport they love as now they will have to worry about a boy taking their spot on the team, or be scared there may be a naked male next to them in the female locker room," Lorey told The College Fix in an interview.
Lorey, who makes no apologies for her stance, made headlines in late August after she refused to refer to biological men who identify as women as women or transgender women during a talk at a public library.
"The librarian then again told me to leave," she relayed on X, "so I directly said why am I being asked to leave and he told me 'Because you are misgendering, you were talking about men in women sports.'"
Today I was invited to share my personal storing of being a college athlete.

I was shocked by what happened.

I stated "Current 10 year old girls cannot live out the same dream [I had] as long as men are allowed to compete in womens sports. So now no matter how hard girls… https://t.co/uqTfdUteeN

— Sophia Lorey (@SophiaSLorey) August 21, 2023
Lorey said her positive experiences with sports is what has her so attached to protecting them, which is one of the reasons she chose to speak at a Protect Kids California rally during which the "Protect Girls' Sports and Spaces Act" was introduced along with two other initiatives.
"Sports brought me nearly everything in life, from the best of friends, to cultivating discipline, to affording a college education — and most importantly — the field is where I had the ability to escape any drama or problems and just play the sport I loved," Lorey told The Fix.
Lorey is outreach coordinator for the California Family Council. She is also host of the "This is a Woman" podcast.
She told The Fix she "will not be silent until we protect the privacy and safety of girls and women." During the Aug. 28 Protect Kids California rally, she said "women have fought for a level playing field for years."
"Tragically, many bureaucrats in government, medicine, education, and athletics act as if the subjective feelings of men and boys are more important than the objective safety of women and girls," Lorey added.
"This is not acceptable. We must protect our sisters and daughters in bathrooms, locker rooms, and sports teams. Silence is not an option."
Despite California being heavily liberal, Lorey expressed faith in the initiatives currently being pushed.
"As it is with any initiative, it costs millions of dollars and lots of time," Lorey told The Fix. "Although here in [California], we are seeing a tide turn, we are currently seeing parents look for any way to protect their children, which is exactly what the three initiatives will do."
The other two initiatives are the "Protect Children from Reproductive Harm Act" and the "School Transparency and Partnership Act," also sponsored by Protect Kids California.
"These initiatives are rooted in common sense. In no other instance in school settings are secrets kept from parents, especially when a child is struggling," the group states on its website. "The average male is faster, bigger and stronger than the average female. That reality has been accepted for virtually all of human existence. As far as preventing child sterilization goes, the data that exists today does not support the medical transition of children."
Lorey said the three initiatives will require hard work and dedication, but parents are waking up.
"Parents in California have made it clear that they are done with what is happening to their children in education, sports, and the constant gender ideology being pushed on them. I have no doubt that they will not come alongside to help the goal of getting the initiatives on the ballot," she said.
MORE: Nebraska governor bars men from women's sports, locker rooms
IMAGE: social media screenshots
Like The College Fix on Facebook / Follow us on Twitter