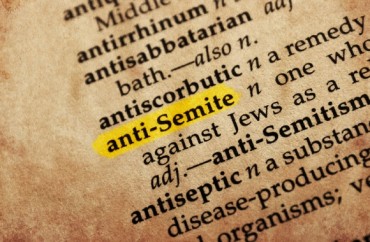 Sixty-nine incidents of antisemitism were reported at 20 different California campuses this past school year, according to a report from the AMCHA Initiative. University of California-Berkeley led the way with eight occurrences.
If the pace continues at its present rate, 2016 will see a 10% increase in antisemitism at US colleges compared to 2015.
"When it comes to antisemitism, California schools continue to top the list, both in number and severity," said AMCHA Director Tammi Rossman-Benjamin. "The problem is not going away. In fact, it's picking up steam and must be addressed immediately."
AMCHA uses the US State Department definition when classifying incidents as "antisemitic."
UC Irvine and UC Santa Cruz were right behind Berkeley with seven antisemitic incidents each.
AMCHA's findings are supported by a report released this week by the Anti-Defamation League showing that antisemitic incidents on American college campuses nearly doubled in 2015.

"We are disturbed that violent antisemitic incidents are rising," said Jonathan A. Greenblatt, ADL CEO. "And we know that for every incident reported, there's likely another that goes unreported. So even as the total incidents have remained statistically steady from year to year, the trend toward antisemitic violence is very concerning."

Greenblatt was referring to 56 assaults, the most violent antisemitic category – representing a more than 50 percent rise from the 36 assaults reported in 2014.

MORE: Dubious distinction: most incidents of campus antisemitism in Calif.

One campus that is certain to crack the top 5 for 2016 is UC Irvine. With 6 incidents already reported this year, UCI has become a notorious hotspot for antisemitism.

Kevin Blum, the incoming president of UCI's pro-Israel student organization, Students Supporting Israel, has watched the hate unfold over his two years on campus.

"Based on my experience within the past two years, it's only gotten worse. Even compared to the beginning of this year. I know faculty members who have been at UCI for a while, and they agree it has gotten worse," Blum said.

Last month, five incidents of antisemitism were reported on the UCI campus.
The Boycott, Divestment and Sanctions (BDS) movement is considered the major force behind the increase in campus antisemitism.
MORE: Over 500 UC alumni urge measures to fight campus antisemitism
MORE: Oberlin alumni demand officials address claims of rampant anti-Semitism
Like The College Fix on Facebook / Follow us on Twitter
IMAGE: Shutterstock