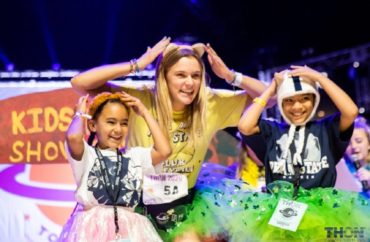 One student 'never felt safe' at the event
An annual fundraiser at Pennsylvania State University that raises money to help kids suffering from cancer is too white, according to some student leaders.
Called THON, the annual event involves 46 hours of dancing and entertainment and "raises funds and awareness for the fight against childhood cancer," according to the group's website.
But the event, run by campus fraternities and sororities, is not diverse enough, according to the editorial board of the campus newspaper and a student government leader.
Jeanelle Loiseau is the chief of staff for the University Park Undergraduate Association and was a Black Caucus representative.
She said she "never felt safe" attending the annual event and wrote that "THON wasn't made for people of color."
One issue is that the primary event is run by two Greek life organizations but does not include the "the National Pan-Hellenic Council and Multicultural Greek Council," which she said are primarily made up of racial minorities.
She wrote in the Daily Collegian:
While Panhel and IFC likely contribute the most, this name discriminates against those who are not associated with greek life, which circles back to people of color, who may not want to be in greek life or chose to be in a NPHC or MGC organization. Diversity in Panhel and IFC is low as well, so it is not a win-win situation for anybody.
Loiseau also said there was "known racism" based on one complaint about one black girl allegedly being told something about her hair. The student leader also said that a "gender-fluid" student was not treated well because there were only bathrooms for women and women.
She wrote:
Last year, Teddy Wilson, a gender-fluid student, participated in THON as an IDC pair. While they were provided gender-neutral storage, they were not provided a gender-neutral bathroom to use. They were forced to use either the men's or women's bathroom, which gave them great anxiety. Their message was addressed to the whole Penn State community — that there should be accessibility for all.
The student wrote that while she is "extremely grateful," for how THON had highlighted a project of hers, there is more to be done. That includes an official name change and a separate "minority/multicultural THON organization."
The event must also "increase the amount of POC dancers, executive directors, captains and committee members yearly — not allowing numbers to decrease."
Her concerns about the fundraiser, aimed at helping kids suffering from cancer, was also shared by the editorial board of the Collegian. The editorial board criticized THON for its lack of diversity but also praised it for creating a "diversity, equity and inclusion" action plan.
Only 16 percent of THON volunteers "belonged to minoritized groups, with 2% being African Americans," the editors wrote. Even though the term "volunteers" would imply that anyone could come and join, the lack of racial minorities willing to help out proves there is a diversity issue, according to the paper.
"After these alarming statistics, THON did take steps to improve the culture of its organization, implementing a Diversity, Equity and Inclusion Action Plan for THON 2023," the paper wrote. "Other clubs and organizations at Penn State should follow this initiative by being transparent with its demographics and create yearly action plans to track its diversity."
MORE: Black students call white people 'maggots' and 'vermin' in multi-university group chat
IMAGE: THON.org
Like The College Fix on Facebook / Follow us on Twitter