A new "disability studies" course offered through the University of Pennsylvania's Gender, Sexuality and Women's Studies Department will look at the intersections of "queer theory, Black feminist theory, visuality studies, and film theory."
Instructor Mae Eskenazi (pictured) told The Daily Pennsylvanian that topics covered in the class — COVID, financial difficulties and "ongoing racialized and gendered logics of colonialism and imperialism" — are still "extremely relevant."
Additional topics include "crip" theory, the AIDS epidemic, "mutual aid justice" and "multi sensorial artistic practice."
According to the GSWS 1500: Intro to Disability Studies description (pictured), the course "center[s] the praxis of disability justice" in which students will "create works that looking [sic] towards models of production that center community based [sic] and interdependent relationality."
Eskenazi said the class came about because there's a "lack of focused disability studies courses" at Penn. "Disability, debilitation, and illness are facets of everydayness." they said. (Eskenazi uses plural pronouns.)
MORE: No students showed up to 'disability sex' talk at Hampshire College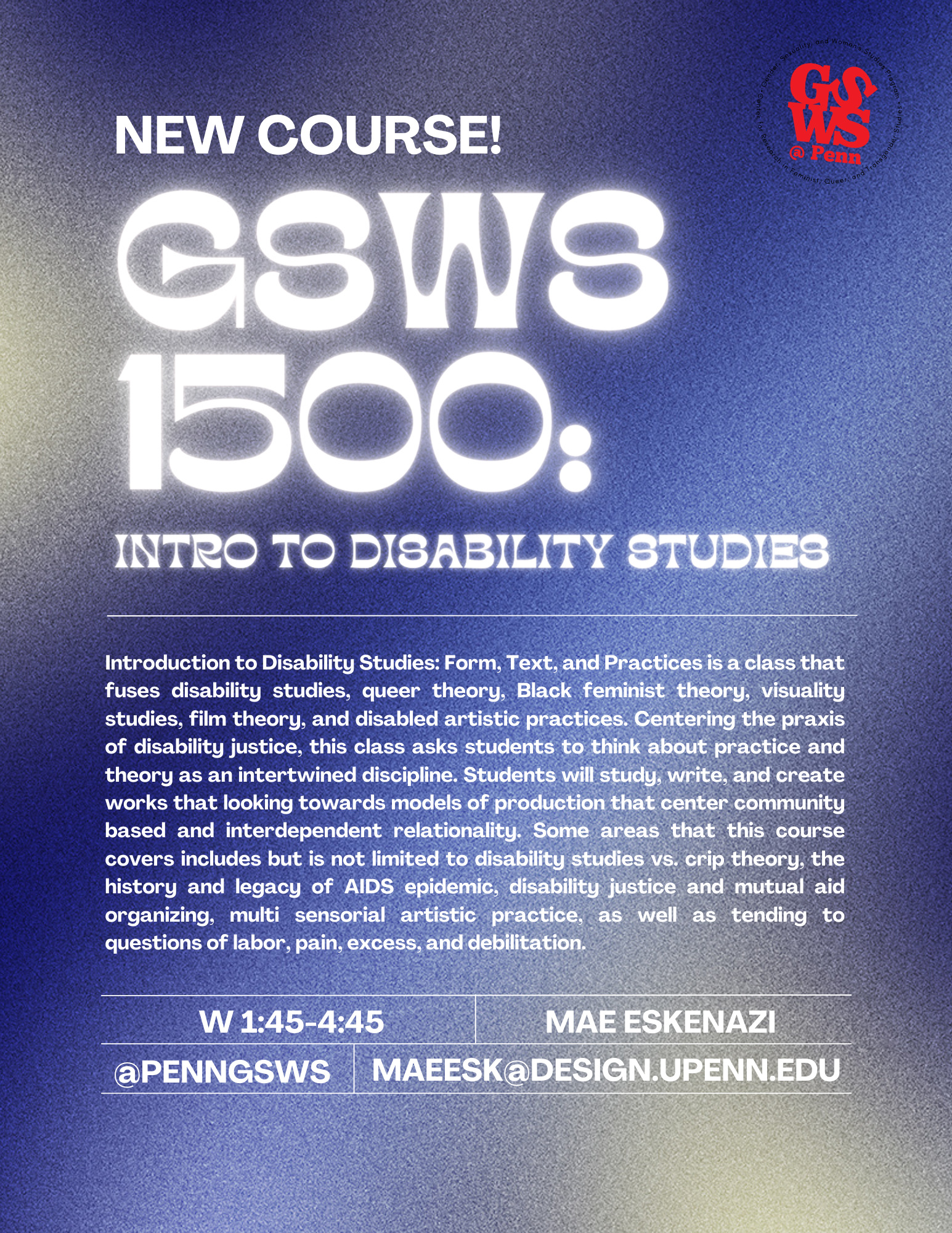 One student said it's difficult to find courses that consider disability a "sociological phenomenon" rather than a medical issue.
Lex Gilbert, president of the Disabled Coalition, added that he is excited Eskenazi will offer perspectives "other than the cis, white, abled thoughts [he's] gotten used to hearing in academic spaces."
Eskenazi is a "white transgender person" graduate student whose interests lie in "the [embodied, fleshly, and material] enmeshment of BDSM, the medical industrial complex, mobility, and disability as it relates to biopolitical surveillance, control, and dichotomies of pain/pleasure," according to their personal and faculty pages.
You can check out some of Eskenazi's work here and here.
MORE: Being black in America is a 'disability,' black law professor argues
IMAGES: Colorado College screencap; Penn GSWS|FQT/Twitter
Like The College Fix on Facebook / Follow us on Twitter