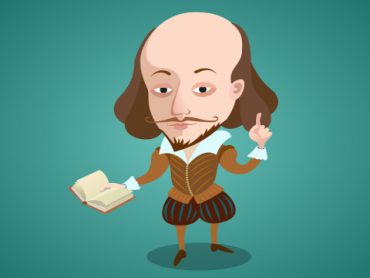 Early this month a group of University of Pennsylvania students removed a portrait of William Shakespeare from the school's Fisher-Bennett Hall and replaced it with a picture of black, feminist, lesbian poet Audre Lorde.
But now, "a collage of 88 different writers and filmmakers" has been put in place of Lourde.
According to The Daily Pennsylvanian, "[e]ach portrait on the current collage represents a figure from the English Department's '50 Book List,' a list of texts chosen by Ph.D. students to be tested on at the beginning of their second year. Both Shakespeare and Lorde are included on the poster."
But this might be a temporary measure:
"This display is a provisional, place-holding version of one of the ideas that have been floated for that space over the years," [English Dept. Chair Jed] Esty said in the statement. He had previously stated that the English Department had voted years ago to replace the portrait of Shakespeare to reflect a more diverse range of writers.

Esty said he asked for the collage to be installed early as a temporary version of what will eventually be a permanent display, "to allow us to start focusing our collective energies into some of the other important issues that we face, not to mention our ordinary work loads."

He went on to say that after winter break a working group will decide whether the poster should remain, and asked in the email for students to submit suggestions or attend the group's meetings.

Esty added that he would prefer a video monitor to display "student work, departmental events, and current projects," but was told by the College of Arts and Sciences that such a display would be too costly.
(U. Penn) GRASP Lab Associate Director of Education and Outreach Daniel Ueda took issue with our previous article on this situation, asking in the comment section if people were "assuming Shakespeare's portrait is not up anywhere else on campus" and pointing out that Penn's "halls are adorned with copious white men."
"You would not feel out of place," he wrote. "Black females? Maybe not so much."
MORE: Penn students remove Shakespeare, replace him with black lesbian feminist poet
MORE: Researcher: Make STEM 'less competitive' to ensure it's inclusive to women
Like The College Fix on Facebook / Follow us on Twitter
IMAGE: Shutterstock