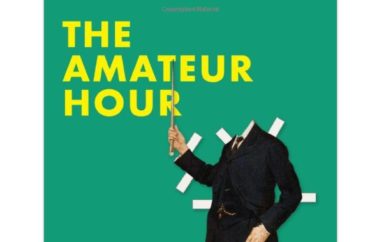 Occasional history mixed up with seemingly random quotes from source documents
Reading "The Amateur Hour" by University of Pennsylvania Professor Jonathan Zimmerman reminds the reader of the advice Neal Page gave Del Griffith in "Planes, Trains and Automobiles."
"Here's a good idea: have a point," Page tells Griffith, after being bored to death by a number of his stories. "It makes it so much more interesting for the listener!"
Zimmerman's book promises to give the reader a "history of college teaching in America" but instead meanders across time periods, with occasionally interesting topics overshadowed by the sheer number of quotes and facts.
For example, the reader will learn about early attempts to provide mass education through television courses, precursors to today's modern Zoom universities. And there's the stories of teaching assistants being overworked, adjuncts being overworked and students favoring goof off, no-show courses.
But Zimmerman fails to create one, consistent narrative that is easier for the reader to follow. While the book's table of contents appears to show that the book will move chronologically, Zimmerman often jumps back and forth between organizing the book by topic and then by time period.
Let's take chapter eight as an example, a chapter both on "the 1960s and 1970s" and "experimentation and improvement." The chapter starts with a story about a 1971 view on "T-group discussions" before a discussion on a Princeton historian in 1966. Several pages later we're told "In a 1967 survey at Yale, for example, students reported that they learned more when professors exerted more classroom control…"
What is the point of this chapter? It's unclear.
Zimmerman's book is impressive in the number of surveys, student reviews, letters and other original source documents it draws from. But in many ways, that is also its downfall.
The reader is overwhelmed with the number of quotes from student letters, surveys and individual statements from administrators and professors.
A book about the history of college teaching in America could focus on all the angles Zimmerman did — teacher pay, classroom size, remote learning and the general development of the purposes of college. But at some point, you either prove your point or you do not.
Coming in at 240 pages, his book is certainly not too long for most people. But over 300 citations that cover even more source material, because some of his citations are books that are citing other research, seems a bit excessive.
The book is worth reading if you need to read 985 quotes from students across the years (exaggeration) but not worth reading if you want to get a succinct, understandable history of college teaching in America.
MORE: Higher education rewards professors who don't teach: BOOK REVIEW
IMAGE: Amazon
Like The College Fix on Facebook / Follow us on Twitter