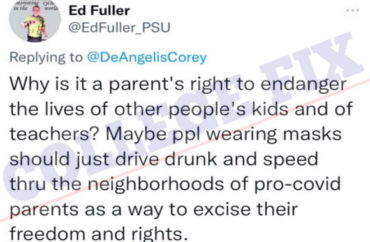 'The faculty member regrets his poor choice of words'
A Penn State University professor recently compared those who say mask and vaccine mandates violate their personal liberties to drunk drivers.
"Why is it a parent's right to endanger the lives of other people's kids and of teachers?" Professor Edward Fuller tweeted Sunday. "Maybe ppl wearing masks should just drive drunk and speed thru the neighborhoods of pro-covid parents as a way to exercise their freedom and rights."
Fuller, an associate professor of education and director of the Penn State Center for Evaluation and Education Policy Analysis, has since deleted the tweet and switched his account to private.
"Penn State does not condone the tweet, and we can share that the faculty member regrets his poor choice of words — which do not represent the views of the University nor the College of Education," Penn State spokesperson Lisa Powers told The College Fix via email Tuesday.
Fuller did not respond to requests from The College Fix on Monday and Tuesday seeking comment.
Fuller's drunk driving comment was in response to a tweet by Corey DeAngelis, national director of research for the pro-school choice American Federation for Children, who praised Virginia Gov. Glenn Youngkin for his executive order to allow families to decide whether children wear masks in schools.
Penn State professor just deleted this tweet: pic.twitter.com/as5ipv2nBy

— Corey A. DeAngelis (@DeAngelisCorey) January 16, 2022
To seemingly bolster his case, Fuller reposted comments, which he had previously retweeted, from a purported Kansas parent who complained the lack of mask mandates at his kid's school led to a teacher's death.
In his own tweet, Fuller merely noted "from a parent" and said "thanks" to DeAngelis for the death.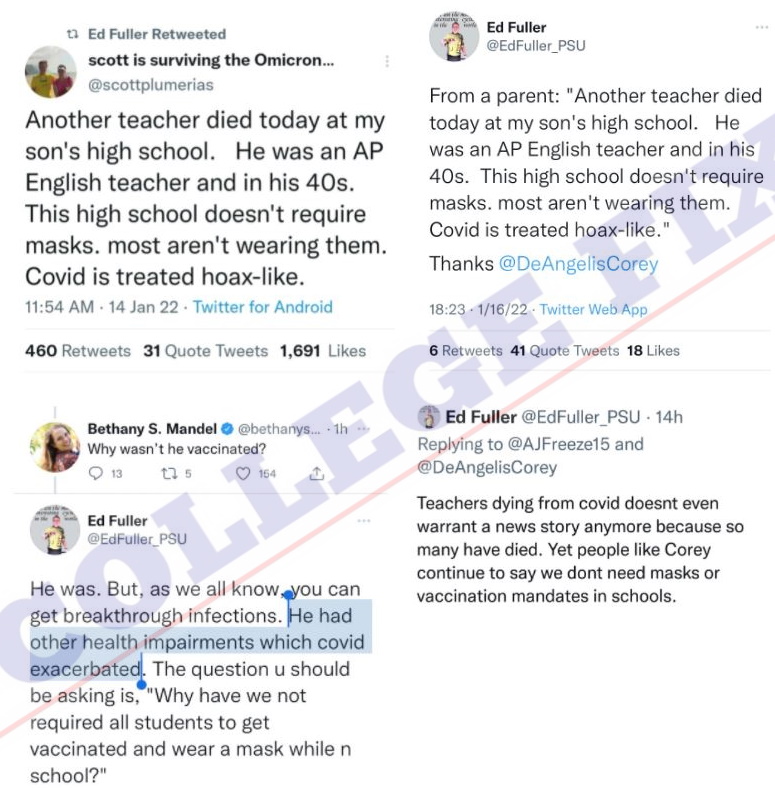 Although the original tweeter had said he was unaware of the deceased teacher's vaccination status, Fuller tweeted the teacher was vaccinated and had "other health impairments which covid exacerbated."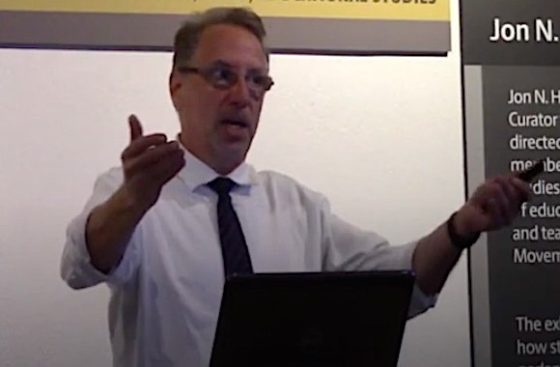 It's unclear how Fuller (pictured) knows this.
Fuller chastised a person who had asked about the deceased teacher's vaccination status, tweeting: "The question u should be asking is, 'Why have we not required all students to get vaccinated and wear a mask while n school?'"
Around the same time, Fuller also made the claim that the number of teachers who have died from COVID-19 "doesn't even warrant a news story anymore because so many have died" and once again argued it's because "people like Corey continue to say we dont need masks or vaccination mandates in schools."
However, according to the left-leaning Education Week, 422 active teachers have died since the beginning of the COVID pandemic. Given that there are over 3 million public school teachers in the United States, plus 500,000 in private schools, "so many" deaths equates to a 0.012 percent death rate.
MORE: Professor who hoped Rush Limbaugh 'suffered until [his] last breath' hides Twitter account
IMAGES: Twitter and YouTube screenshots
Like The College Fix on Facebook / Follow us on Twitter