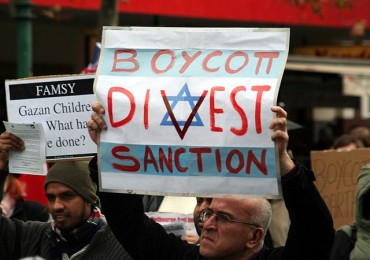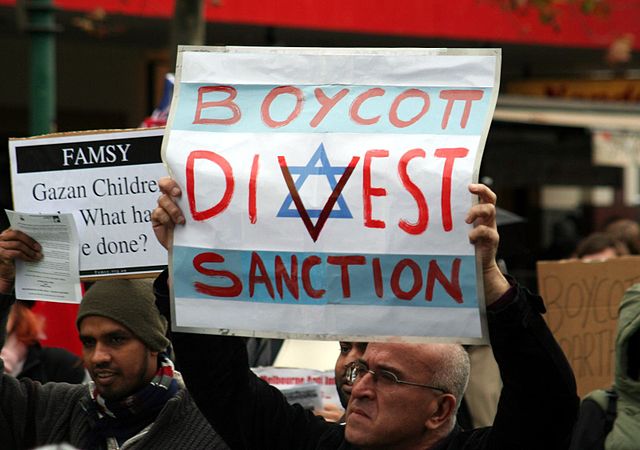 Students in the PennBDS organization at the University of Pennsylvania have ignited tensions nationwide with their choice of headliners for their upcoming anti-Israel Boycott, Divestment and Sanction (BDS) conference.
The conference, scheduled for February 3-5, supports the national BDS movement, which according to conference organizers Matthew Berkman, Abbas Naqiv, and Madeline Noteware seeks to "end…the occupation, [provide] full equality for Arab citizens of Israel, and [provide] respect for the rights of refugees," by encouraging boycotts of Israeli products and divestment from Israeli companies.
Conference organizers hope that the sessions and speakers will "build solidarity within the BDS movement and educate activists on the issues."
Among the presenters scheduled to speak are Palestinian human rights attorney Noura Erakat, Jewish-American author Anna Baltzer, and the keynote speaker, co-founder of Electronic Intifada, Ali Abunimah. Abunimah in particular is highly controversial, having repeatedly condemned a two-state solution, and having gone on record with comments that sound a great deal like incitement to violence against Israelis.
In 2002 he told the Washington Post, "If Israel is going to maintain a military occupation over millions of people by nothing but brute force, then no power on earth is going to stop some of these occupied people responding in kind. The only way to end the violence is to end the occupation."
It is assumed that by "occupied territories" Abunimah is referring to the land acquired by Israel in the 1967 war. But he ignores the fact that there were a remarkable number of terror attacks against the Jewish state prior to Israel's acquisition of the "occupied" territories.
Similarly, Erekat has made statements in the past that appear to defend acts of terrorism. From an article she wrote in 2000: "By the time I left Palestine…over 100 Palestinians had become martyrs. Why? Was it to gain international sympathy? Or terrorize the settlers? Absolutely not – they died and continue to die fighting for their freedom and liberation." Puts a very pretty gloss on a deluded suicide bomber, does it not?
Given the history of these speakers, it seems unlikely that Penn's conference will in fact promote much in the way of equality, respect, or peace, despite the students' stated goals. If BDS was truly concerned with achieving human rights and equality, why is there justification of terror instead of condemnation? And why does their criticism only flow in one direction – all toward Israel?
PennBDS organizers say the students who support BDS are actively engaged in protesting human rights violations in other countries as well, but "Israel is a unique case. No other systematic human rights abuser in the international system receives $3 billion a year in military support from the U.S."
Fellow student Noah Feit, President of Penn Friends of Israel, disagrees with the label of "human rights abuser," and says many in the BDS movement are basing their case against Israel on anecdotes. "In some cases, BDS is a political façade for a deep-seated hatred of an entire people," he argues.
But he doesn't offer a wholesale condemnation of Penn's upcoming conference. "Many of the speakers have valid points in their opposition to Israeli policy. In fact, Israelis share many of the opinions likely to be expressed." And, he argues, that is exactly why Israel is a strong democratic country, not a "systematic human rights abuser."
In response to the BDS conference, Feit's group plans to host Professor Alan Dershowitz to discuss the destructive nature of BDS and the moral case for Israel. The group will also host its annual "Israel Week" event to celebrate Israeli culture and democracy.
Fix contributor Emily Schrader is a senior at the University of Southern California.
**Update: An earlier version of this article incorrectly identified the group, Penn for Palestine, as organizers of the 2012 BDS conference. In fact, a different campus group, known as PennBDS, organized the conference.
**Update: This article reflects the following correction. Quotes from PennBDS organizers–one originally attributed to Mr. Berkman and Mr. Naqiv, and the other to Ms. Noteware–should have been attributed to all three organizers collectively.
Like The College Fix on Facebook / Follow us on Twitter