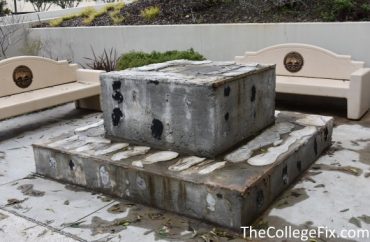 MALIBU, Calif. – When a small but vocal group of students at Pepperdine University demanded a statue of Christopher Columbus be removed from the Christian university, they had one big advantage: widespread apathy among their peers.
The statue of Columbus was removed from the California campus earlier this month, less than two weeks after President Andrew Benton announced the monument would be relocated to the university's campus in Florence, Italy.
The university's action comes amid intense scrutiny, with thousands of signatures gathered for two online petitions demanding the university keep the statue, which was donated in 1992 by a group representing the Columbus 500 Congress.
Two historians have also debunked allegations made by student protesters, but in the end the attention couldn't overcome the suggested indifference of a number of Pepperdine students, according to recent interviews on campus.
In his message to students announcing the statue's relocation, Benton said "stories of conquest and the art associated therewith are painful reminders of loss and human tragedy" for many, including those at the university, which is affiliated with the Churches of Christ tradition.
MORE: Ceding to demands, Pepperdine will remove Columbus statue
His decision followed student demands to remove the statue, previously located above the university's amphitheater, and a protest last fall where organizers claimed the statue is "a celebration of genocide and racial oppression."
Benton's decision drew the ire of two conservative groups, which launched petitions aimed at saving the statue. The petitions, launched by PragerU and TFP Student Action, call on Pepperdine to keep the statue at the Malibu campus. More than 10,000 signatures have been collected between the two initiatives.
A PragerU student ambassador was escorted from the university earlier this month when he impersonated Columbus and stood in place of the removed statue.
At a recent campus town hall meeting, Benton acknowledged his decision's unpopularity while doubling down on his choice to remove the statue.
"I did not expect it to be popular. I didn't do it to be popular. I did it because I believed it was the right thing to do," the president said, according to the Pepperdine Graphic.
Pepperdine's public relations department said Benton was unavailable for an interview during The College Fix's trip to campus and referred to the university's official statement on the statue's relocation.
The 149-word statement says Benton's decision "recognizes the importance of compromise in creating a campus culture of unity and inclusiveness."
But one outspoken student disagrees.
"That's a concession. It's not a compromise," Kaitlyn Pfingston, a graduate student who spoke out against the decision at the town hall event, told The Fix. "Where is there any kind of compromise? He's either removing [the statue] or he's not."
Meanwhile, students on campus told The Fix many of their peers are indifferent to Benton's decision.
"I'm indifferent," said junior Peau Porotesano, adding that the majority of his fellow classmates feel the same way.
"I mean I don't have too strong of opinions on it," said sophomore business student Ryan Reeves. "I just don't know how big of a population really, like, wanted it gone."
Some students expressed satisfaction with Benton's decision, but admitted most students don't share their opinion.
"I think a lot of them are indifferent, but I think you have to pay respect to the people who were siding toward it being offensive and inappropriate," said junior Jens Cole.
"Obviously, the most outspoken are usually the ones that people are taking notice of because they're the most outspoken, but yeah, I think most people are indifferent," said Hannah Fleming, who also supports Benton's decision.
MORE: Petition aims to save Christopher Columbus statue at Pepperdine
But while some students cite widespread apathy toward the statue among their peers, there still remains divergent opinions on Benton's decision to ship it to Italy.
Fleming, who said she's from a Native American reservation, thinks "removing [the statue] but still having it associated with the university is a little bit controversial."
Conversely, junior Jordan Buenafe opposes the president's decision and said "at least we still get to keep [the statue] and it's not going into a landfill or anything."
Pfingston, the graduate student who opposed the statue's removal, said she believes the protesters' narrative of oppression and genocide is misguided.
"By conceding [Benton is] effectively saying that those claims are accurate," she said. "And what that actually does is prevent other students who have the same opinion as me from speaking out because they don't want to be labeled bigoted or indifferent to human suffering or indifferent to indigenous populations."
Pfingston is attempting to organize a panel discussion to bring together faculty members and others with diverse views on the issue.
MORE: Students demand Catholic university denounce Saint Junípero Serra
Meanwhile, a Pepperdine emeritus history professor said he supports the decision to relocate the statue and understands the point students are trying to make by using the language of "genocide" and "oppression." However, he's not sure they're the appropriate terms to use.
"'Genocide' implies ethnic/racial extermination as designated by policy. Columbus did not have that in mind, nor did the colonial governments that followed him," Prof. David Baird said in an email.
He added oppression is a "more appropriate" description but said it was "more of a tragic result than a prescribed intention."
William Fowler, a history professor at Northeastern University, who has previously spoken on the history of Columbus, echoed Baird's remarks. He said it's hard for him to see how any monument can celebrate racial oppression.
"The issue of genocide is a term [Christopher Columbus] would not have understood. To be guilty of genocide [Columbus] would have had to have intent. What evidence do we have of his 'intent' to commit genocide," Fowler said.
MORE: UW-Stout's 'harmful' frontier paintings slated for 'controlled' room
Like The College Fix on Facebook / Follow us on Twitter
IMAGE: acroom/Flickr