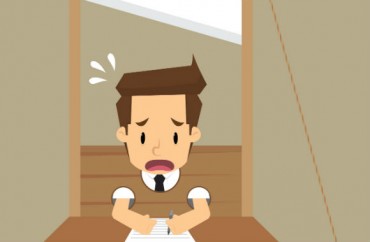 An adjunct instructor of philosophy at the Community College of Aurora says he was fired for complaining about a requirement handed down by administrators to dumb down his course, and a recent report by the American Association of University Professors tends to agree with that claim.
Meanwhile, campus officials say Nathanial Bork, who taught at the school since 2010, was terminated because of his teaching "difficulties," Inside Higher Ed reports.
The crux of the issue centers on Aurora's new Gateway to Success initiative, which reportedly modified introductory liberal arts classes to increase the amount of students passing them. According to Bork, professors had to implement the new strategies until they produced a "success rate" of 80 percent "for all student groups, as defined by race and gender."
So what does modifying the classes look like?
"Bork said, in reality, he'd been asked to cut 20 percent of his introductory philosophy course content; require fewer writing assignments, with a new maximum of eight pages per semester; offer small-group activities every other class session; and make works by women and minority thinkers about 30 percent of the course," Inside Higher Ed reports.
The American Association of University Professors, after investigating the issue, tended agreed with Bork, and in its report on the matter voiced concern about academic freedom. They concluded that he was more likely fired for being a squeaky wheel about the new curriculum mandates and that the college did not afford Bork due process.
"While it is impossible to say with absolute certainty that Mr. Bork's dismissal was an act of retaliation by the CCA administration, we can say with certainty that the timeline of events is suggestive, the circumstances of the dismissal are extraordinary, and the administration's stated rationale is unconvincing," the AAUP states.
"… It should be stressed that the investigating committee takes no position on the quality or suitability of the Gateway to Success curriculum itself. While Mr. Bork and several others have voiced concerns about the new curriculum, other faculty members have praised it," the group added.
Like The College Fix on Facebook / Follow us on Twitter