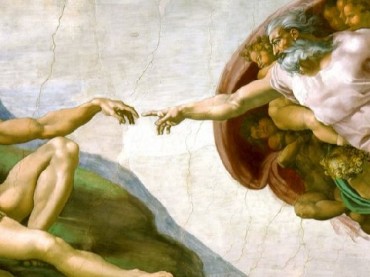 A philosophy professor is visiting campuses giving guest lectures that argue the God of Christianity represents immorality.
Dr. Garret Merriam, associate professor of philosophy at the University of Southern Indiana, is set to give a guest lecture titled, "If a God Exists, Then Anything is Permissible" at Boise State University next week. Merriam gave a lecture with the same title at Purdue on Feb. 26.
Promotional materials for both the event at Purdue and the talk at Boise State declared:
Dr. Garret Merriam Assistant Professor of Philosophy at the University of Southern Indiana, will be taking the famous line from Dostoevsky, "If there is no God, then anything is permissible," and turning it on its head. He will be arguing that if God and all his trappings, as traditionally conceived of by mainstream Christianity, are real, then our traditional moral values are in deep trouble. In short, if we accept that God is real, then we have to abandon our basic moral ideas. Anything would be permissible. 
An award-winning educator, Merriam's YouTube page, which has more than 13,000 followers, includes videos that in his words "challenge the internal and external consistency of Christian theism." Video titles include "Do Christians Really Believe What They Think" and "Why Aren't There More One-Eyed Christians?"
At the University of Southern Indiana, Merriam advises student clubs including the Philosophy Club, the Vegetarian Club, and the Secular Student Alliance, according to a faculty profile. Merriam did not respond to several emailed requests from The College Fix seeking comment.
Some of his more recent Tweets include this one from Feb. 10: "Jon Stewart is stepping down, but Bill O'Reilly is still on the air. Where is your God now?" Another from mid-January noted: "What an asshole: 'Pastor Stops Performing A Woman's Funeral After Discovering She Was A Lesbian.'"
Merriam's talk at Boise State is co-sponsored by the Boise State Philosophy Club as well as its Secular Student Alliance chapter, whose faculty advisor is Professor Robin Allen – chair of a mandatory "University Foundations" class that aims to teach students how to "think ethically."
A flier posted across Boise State University's campus right now advertising the event declares "If there is a God, anything is permissible."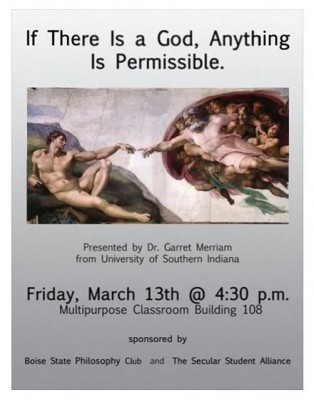 The debate between science and religion is always a heated one on a college campus, and Boise State University is no exception. Located in a deep red state with many churches and temples located around campus, secular and religious ideas frequently clash here.
The Secular Student Alliance is a group that has already grabbed attention and controversy by demanding that universities designate special atheist "safe zones" on campus, and also has worked to shut down anti-abortion protestors at Boise State's campus.
Now the "If a God Exists, Then Anything is Permissible" lecture topic and provocative fliers – which apparently argue that if you believe in God, there are no such thing as morals – have caught the eye of some students, who have mixed reactions to it.
"I think it's ridiculous, but also interesting to see the other point of view," freshman Abby Shepard, a political science major, told The College Fix. She added that while the topic of religion is interesting to discuss, extremists often hijack the debate and drive many people away.
Some students remained supportive or ambivalent about the posters and lecture.
Austin Davis, a junior pursuing a degree in electrical engineering, said "it's fine wording to get it's point across, it's trying to promote something and it's not terribly offensive." He added that as long as it's not a mandatory event, the fact that it's happening isn't offensive on its face.
As for whether the Secular Student Alliance is trying to be provocative, its members have not replied to The College Fix's requests for an interview.
College Fix reporter Jacob Palmer is a student at Boise State University.