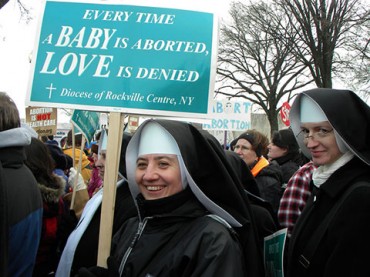 These students must feel really safe at the University of Missouri. Or maybe they're just really dumb.
Pro-choice activists actually documented their vandalism of pro-life messages just hours after they were scrawled by Mizzou Students for Life members for National Pro-Life Chalk Day, the pro-life group wrote at the national SFL website.
Why not? Look at the support in the responses.
@Kayley_Hotstuff They didn't last long after @LilKraus and I found them. pic.twitter.com/UUzuLd1ukh

— Ju (@MissJuBooty) March 5, 2015
The chalk statements included "A baby @ 9 weeks in the womb can suck their thumb!" and "Pregnant and scared? you have options," with a phone number.
Though none of the statements had the group's name on them, "one Twitter user said she was planning to write a letter to Mizzou's Organization Resource Group about us concerning the messages," the Mizzou group said.
The group included before and after pictures of their chalkings. I recognize some of the slogans from Feminists for Life, which is starting its own project to share early feminist writings on abortion (news flash: they were strongly pro-life) with "women's historians teaching at campuses across the country."
Good to know that certain student activists don't trust their own faculties of persuasion to win over students.
Read the Mizzou SFL post, which has more photos.
Like The College Fix on Facebook / Follow us on Twitter
IMAGE: Talk Radio News Service/Flickr