This summer, it took a priest to get a small chiropractic and health sciences college out of joint.
On August 8, adjunct professor Steven Salaris was escorted off Logan University near St. Louis, Mo. At the time, Salaris, 54, said he was unsure what he had done to earn his forcible removal from the private campus with just a week to go before his students took their final exams for a summer school course.
Was it the joke he made in class about sex being a good cure for a headache, a campus diversity play he criticized on Twitter, the fact that he is a white male? If you ask Salaris, he'll tell you it might have been a combination of all of the above.
The problems for Salaris, an Orthodox Christian priest, began earlier in the year when two female students told him some students were uncomfortable with a few jokes he had made in physiology class.
Several days prior, Salaris had joked that the rod cells in the eye provide black and white vision so one can see all "fifty shades of grey." In a discussion on migraine headaches and pain modulation, Salaris mentioned sex was a proven cure – a claim backed by scientific studies.
"It was meant to be humorous – a joke," Salaris told The College Fix via phone.
"You're supposed to be adults here," Salaris said he had told his students.
Salaris (pictured) said he told the students he had never had anyone complain about his jokes in the nearly nine trimesters he had taught at the school, but he promised to stop making side comments. He has been teaching physiology courses since 1992, even teaching adjunct classes while he was still in seminary.
But after making his jokes, he was called to the office of the head of campus human resources several days later to address his supervisors' concerns. He said administrators were concerned a Title IX offense had taken place, but were ultimately satisfied none had.
Earlier in the year, a student told Salaris that the university was advertising for a new professor to teach the classes he was currently teaching. Soon, Salaris' supervisor, Dr. Atanas Ignatov, sent him an e-mail telling him he might want to "look into" the job. Salaris thought this meant he was being required to re-apply for his position.
But during the summer trimester, around the time of the complaints made against him, Salaris found out from a colleague his position had been filled.
"I'm used to this stuff," Salaris said. "When you're adjunct faculty, you're simply 'rent-a-prof' and you're at the bottom of the totem pole."
"I just knew, because I know how left-leaning the administration is, that I wasn't going to get the job – I'm a white guy," he said, noting that his job had been filled by a minority woman.
When the Student Affairs office got wind that Salaris had made this comment to several friends (he said he was joking), he said he was once again called to Ignatov's office. Salaris said when he refused to confirm or deny he had said it, Ignatov told him his contract would not be renewed in the fall. Salaris said he already knew the decision had been made to replace him, although Ignatov would not confirm it.
Yet in August, Salaris found himself being escorted off campus by a security guard after he ridiculed a campus play that the administration advertised to students as an "interactive presentation that shares thought provoking values of both diversity and inclusion." The play, "The Defamation Experience," was meant to broaden students' "views and interactions with others, exploring how race, religion, class, and gender intersect and clash."
Salaris mocked the play on his Facebook page, which he had previously set to "private" after students complained about him telling followers about an incident when students were caught cheating.
"I caught my students cheating. I re-wrote the test and there was much weeping and gnashing of teeth," Salaris said he posted. He said he never mentioned Logan by name or which class he caught cheating.
But he left the page open for his post about the diversity play (pictured), allowing Logan students and administrators to see it.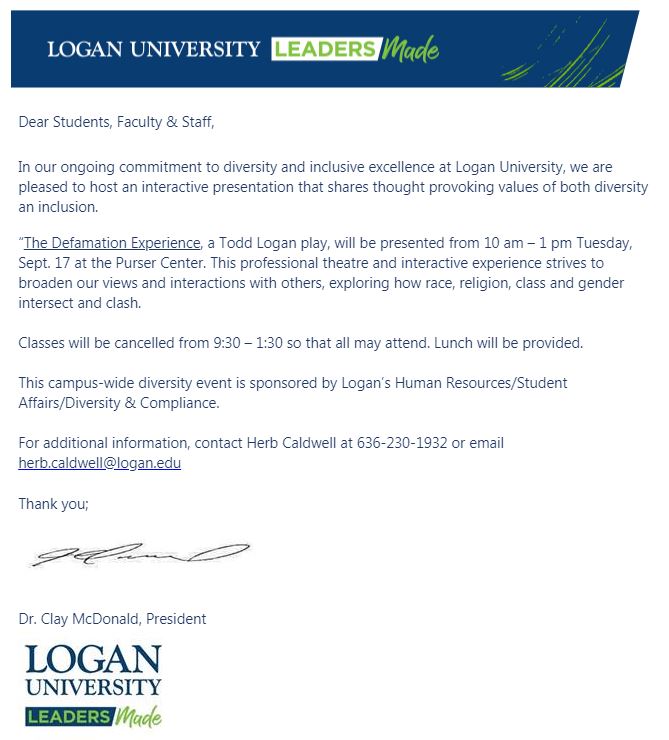 "What ticked me off is that this is the same campus and group of students that tried to get rid of Chick-fil-A," Salaris said. So he posted the president's e-mail encouraging students to attend the play, calling it "leftist propaganda." Several days later he deleted the post.
Next Salaris received a visit from the Dean of the College of Health and Sciences, Dr. Sherri Cole, who took him to meet with a university diversity compliance officer. Salaris said he refused to answer whether he told others he was replaced because he was a white male, but he copped to the charge of ridiculing the diversity play online.
At that point Salaris said Cole told him his contract was terminated immediately and he was to turn in his badge, keys, and parking pass. He said he was escorted off campus by an African-American campus security officer who happened to see the offending post.
"He told me there was nothing wrong with it," Salaris said. "He said you just had an opinion."
By the time he got home, Salaris said all his access to everything campus-related had been revoked and he had been removed from the website.
"It was like Stalinist Russia where you're just airbrushed out of the picture," he said. "I was completely canceled."
The College Fix made several attempts to contact Dr. Ignatov, Dr. Cole, and a campus spokesperson for this story. All requests for comment were forwarded to public relations representative Nina Kult, who told The Fix that "We never comment or share information on employee matters."
Salaris told The College Fix he is not planning an unlawful termination lawsuit, even though discipline is handled unevenly on campus. He noted other instructors have said worse things to students yet still have their jobs.
Salaris said he has a job as a priest and doesn't need the job at Logan. But since he was fired, he has used his newfound freedom to take to his Facebook page to criticize "libtards" and "feminazis."
"I'm actually poking fun at some of the people at Logan," he said when asked by The Fix about these comments. "That stuff is on there and it's me just being me. But I'd never say anything like that in class."
Later, Salaris e-mailed The Fix to clarify that he is "frustrated by the total collapse of our western civilization."
"If you come to my church, you see that I have a wonderfully diverse and inclusive parish, including two gay men who are part of the backbone of my community," he wrote.
MORE: UC Davis professor under fire for opposing required 'diversity statements'
IMAGE: Shutterstock.com
Like The College Fix on Facebook / Follow us on Twitter