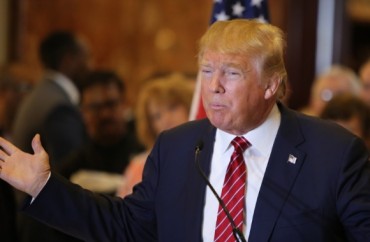 Kathleen Iannello, an associate professor of political science at Gettysburg College, has declared a Donald Trump presidency "truly unthinkable as well as unteachable" and as such says she cannot offer a balanced approach on the Republican candidate inside her classroom this fall.
"My approach for the fall semester will be boldly honest: It is a disservice to students to attempt to provide balance when I know that balance is an offense to the truth," Iannello stated in a recent op-ed in Philly.com.
The column, titled "Balanced Presentation A Dishonest Exercise In Presidential Race," has the professor admitting that "as a liberal, [she has] no problem extolling the virtues of Democrats."
With that, she goes on to write that to counterbalance that she assigns readings of moderate Republicans and even praises Ronald Reagan. But she cannot offer balance on Trump, she added. On Trump, she draws the line.
"His harsh and distasteful commentary regarding religious and ethnic groups, as well as women, only serves as a lightning rod for promoting further hate," Iannello wrote. "He displays neither a record of public service nor an understanding of the word statesmanship. In the history of our country, it is hard to recall anyone less prepared to take office."
MORE: Prof asks on final exam: Is Trump the Anti-Christ?
When contacted by The College Fix to clarify her public declaration, she responded that "I can assure you that all students will have a voice in my classes."
And a Gettysburg College spokesperson told The College Fix via email: "It's an important part of our mission as a liberal arts institution to ensure that ideas can be shared openly, and we have every confidence that students will be given opportunity to express their views freely in their classes."
However, while students may be allowed to express their views in Iannello's classes, will those opinions be regarded with respect and academic consideration – or dismissed and disparaged? Can students who support Trump speak freely in her class without fear of reprisal or ridicule?
On Ratemyprofessors.com, a website on which students nationwide can anonymously provide honest feedback on teachers, one student from 2008 stated: "Professor Iannello means well and is a decent teacher, but she preaches her liberal propaganda way to much in class." Additionally that "she is not open to new ideas and is very close minded on her beliefs."
She has been described as "intimidating if you lean right" and a person who gives "conservatives a hard time." "If you're a right-winger, be prepared to walk into a brick wall whenever you enter the classroom," one review states.
The reviews are several years old. However, as a current student at Gettysburg College, I took Iannello's political science 101 course approximately one year ago, and I can offer additional feedback on my experiences in her classroom.
As an outspoken conservative at Gettysburg College, I often questioned and spoke against various statements Iannello made, as she loved to praise Hillary Clinton and scrutinize and denounce many Republican candidates.
Once, when the class discussed Trump's stance on a temporary moratorium on Muslim immigration into the U.S., a male student asked Iannello which American president had done something similar during his tenure. She was noncommittal in her response, and did not mention it was President Jimmy Carter.
When discussing social security debt, I voiced concern that we are trillions of dollars in debt, a number that can be confirmed by numerous government agencies. Iannello, in response, suggested she could not be completely sure of the exact figure, but it all depended on what website one looked at – effectively dismissing the larger argument that the mountain of debt looming above millennials is an unsustainable crisis.
In the final paper, she asked us to discuss whether the states or federal government should control abortion regulation. In my argument that the states should have such control, I briefly mentioned Planned Parenthood's scandalous videos that revealed the organization had sold aborted baby parts. When I received the graded paper, Iannello had crossed out that sentence and wrote that the videos were proven to not be accurate, and had been edited.
So when Professor Iannello openly declares in Philly.com that "I have never before been faced with the prospect of attempting to stay 'balanced' with a presidential candidate who I think is unqualified for the job by every conceivable measure" – I can't help but think: Really, only Trump?
MORE: Women's college student president alerts police to 'Trump 2016' drawing
Like The College Fix on Facebook / Follow us on Twitter