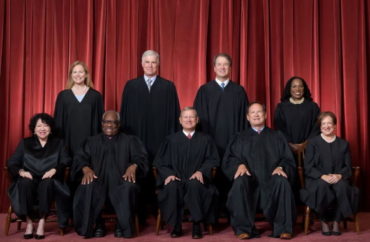 Professor warns about conservative justice power, laments loss of Republican-appointed judiciary voting for liberal policies
The conservative majority Supreme Court might further introduce "revolutionary" changes this upcoming term, according to a political scientist.
University of Texas at Arlington Professor Morgan Marietta wrote that cases on guns and the administrative state this term are part of "revolutionary changes in doctrine," introduced by the Supreme Court in the past two years.
"Two years ago, the court began what many consider to be a constitutional revolution," the political science department chair wrote in The Conversation.
It is not clear what happened "two years ago" because Marietta's citation goes back to an article he wrote on Sep. 13 that lamented the Supreme Court reversing Roe v. Wade and striking down President Joe Biden's executive action student loan bailout (which happened in the past year).
The professor warned further about a "revolutionary period" in jurisprudence.
"In a revolutionary period, aggressive litigants will push the boundaries of the new doctrine, attempting to stretch it to their advantage," he wrote. "After a period of uncertainty, a case that defines the limits on the new rule is likely to emerge."
At issue this term is a case about a domestic abuser who had convictions for drug dealing and is a "violent criminal." He is challenging a prohibition on his right to own firearms. Marietta also wrote about several cases challenging the authority of bureaucrats to write regulations.
"In these two core areas of constitutional conflict – gun rights and administrative powers – the court will determine this term whether its revolutionary doctrines will continue to expand or come to a resolution," he wrote.
Concerns about the Supreme Court limiting executive overreach or relying on originalism are a common topic for Marietta.
In September 2022, he wrote of a "seismic change" and a "dramatic change" on the nation's highest court.
"At the end of a single term, the court rejected the long-standing constitutional right to abortion, expanded gun rights and ruled that religion can have a bigger role in public institutions," he wrote, also in The Conversation.
Marietta called the reversal of Roe v. Wade in June 2022 a "revolutionary ruling." In that case, Dobbs v. Jackson, the Supreme Court returned the issue of abortion to the states where it had remained prior to 1973.
He also wrote about the loss of justices appointed by Republicans who would then go on to join or write liberal opinions, such as Roe v. Wade. When justices appointed by Republicans rule in a conservative way, this falls under "partisan" activity, according to Marietta.
"Constitutional debate goes back and forth as the control of the court shifts," he wrote in September 2022. "Over time, it will likely shift again, while the partisan view in the long term degrades the legitimacy of a correct, as well as incorrect, court."
MORE: Oprah Winfrey says SCOTUS 'corrupted' during graduation speech
IMAGE: Supreme Court
Like The College Fix on Facebook / Follow us on Twitter