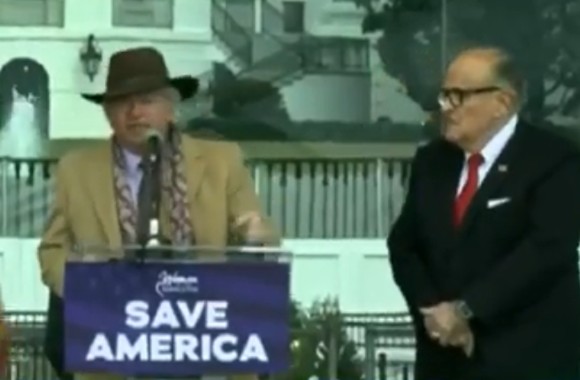 The American Political Science Association wants John Eastman silenced for his legal advocacy
Political science professors want to see former Chapman University Professor John Eastman removed from the membership of the American Political Science Association because of his legal advocacy in the 2020 presidential election.
Eastman played a key role in trying to convince Vice President Mike Pence to object to the certification of seven states' Electoral College votes on January 6, under a theory that the 12th Amendment empowered the VP to do so. The memo presented to the VP has recently been published. Eastman also conducted legal advocacy on behalf of President Donald Trump in court cases relating to the 2020 presidential election.
Despite the fact that this would appear to be in the realm of political science, a professor advising the executive branch on actions he believes they could legally take, members of APSA want to see him gone.
A September 23 letter, signed by over 250 professors and graduate students, accused Eastman of being part of an "attempted coup." Though a coup, as political scientists should know, refers to unlawfully removing someone from power, and Eastman wanted Trump to remain in power. David Karpf, a professor at George Washington University, organized the letter.
"John Eastman has violated our discipline's professional ethics by participating in the dangerous attempt to overturn the institution of electoral democracy in the United States," the political scientists wrote.
But APSA members do not have a standing objection to all discussions about election security, law and fraud. The 2017 convention included a panel on 'The Legitimacy of Elections: Russia, Fraud, and Public Confidence in the Electoral Process."
While Eastman appears to still be a member, the APSA agitators succeeded in getting a Claremont Institute panel led by Eastman pushed to a virtual format, instead of in-person.
The Institute's leadership said the move "appears to be APSA leadership's gutless response to calls for it to cancel Claremont's panels because some APSA members do not agree with the views of some of our panelists." It decided to cancel the panel rather than host it virtually.
Eastman has already been pushed out of his job at Chapman University over his legal advocacy.
While some APSA members accused him of violating "professional ethics," even Eastman's former employer agrees he did not break the law.
"The Manual allows for the termination of faculty who are found guilty of a felony, however, that is not the case today," Chapman President Danielle Struppa wrote on January 9, in her message condemning Eastman.
MORE: Students demand resignation of professor who attended January 6 protest
IMAGE: CSPAN
Like The College Fix on Facebook / Follow us on Twitter