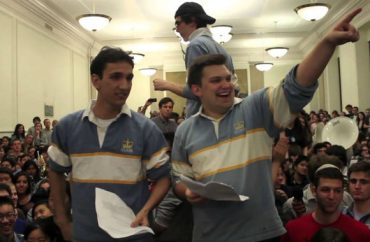 Alumni threaten to withhold donations if not reinstated
Columbia University has capitulated to student protesters who demanded an end to a politically incorrect marching band tradition that some have deemed "unsafe" and "triggering."
Alumni band members are having none of it, blasting the administration for shutting down their four-decade comedy tradition.
"Orgo Night" has historically been held at midnight the day of the organic chemistry ("Orgo") final exams.
During the event, the marching band occupies a room in the library and plays music. It also performs a comedy skit, which often takes jabs at minority students, sexual assault, infamous students and cranky administrators.
The administration's decision followed more than a decade of student protests, sit-ins and demands to shut down the event.
MORE: Columbia's marching band cares about free speech, not feelings
One notable op-ed from the 2014-2015 school year lamented that the comedy skit is a direct attack on marginalized populations at Columbia.
"Every semester after Orgo Night, some students leave Butler feeling miserable and triggered and have to turn to one another for consolation while our peers celebrate," wrote Columbia students Tracey Wang and Dunni Oduyemi, calling the event "an unsafe space."
"We asked administrators to listen to us, to acknowledge us, and to protect us," they said. "Their failure to do so is proof … the administration does not care about its students of color, its queer students, or its trans students."
The administration gave a preview of what was coming during the fall 2016 finals, when it blocked the marching band from performing in the library, calling it a "disruption" to studying.
The band was forced to deliver its half-hour skit to an audience of hundreds outside the library on a freezing cold night, with some seen wearing double and triple layers to stay warm.
Since then, a shadowy group of alumni who call themselves "Hamiltonius" have published 10 open letters denouncing the administration's decision to shut the band out of the library.
MORE: Stanford students say band suspension cracks down on 'freedom'
While not all of the letters have included the names of actual alumni, the most recent letter was signed by over 60 alumni from the 1960s through the second Obama administration.
The alumni demands seem to have fallen on deaf ears. They claim they have not yet received any meaningful response from the administration, and a university spokeswoman told The College Fix the no-library policy won't change.
President, a First Amendment scholar, is a hypocrite
"Some alumni have attempted to raise the Orgo Night issue in personal conversations with university administrators, but have been politely rebuffed," Hamiltonius wrote in the most recent letter, "How to interpret the silence from [the administration]?"
It argues that Columbia clearly had political motivations for banning the tradition.
"It is difficult for any observer not to conclude that the motivation for attempting to silence the Band is to avoid future controversy and appease the small number of individuals who periodically object to some portion of the content of the Orgo Night program," said Hamiltonius.
MORE: Columbia marching band tradition disses 'sexual respect' program
University stands by decision to ban Orgo Night from Butler as alumni pressure mounts https://t.co/CbKvPOrMkC pic.twitter.com/cqa3r2Kk5K

— Columbia Spectator (@ColumbiaSpec) April 25, 2017
It accuses President Lee Bollinger, a noted First Amendment scholar and "fierce advocate for free speech," of hypocrisy:
You often say and do the right thing when that bedrock right is challenged on campus.  Yet, in this case it appears that you have opted for censorship over student speech, and have adopted a heavy-handed approach totally lacking in due process over an open public debate.
The unnamed alumni claim they have continued to participate in Columbia, sending their children to the university, giving money and attending Columbia sporting events to cheer on the young.
"And yet it seems none of that has value in your eyes," wrote Hamiltonius.
They conclude by demanding a response from Bollinger, threatening to withhold "our support, our time, and our money" if he continually refuses "engaging with us" on public matters.
Columbia band alumnus Dan Carlinsky, a 1965 graduate, told The Columbia Spectator that he's disappointed with the administration.
"The unfortunate thing is that there has been no effort or no willingness even to sit down and talk about it," he said. "Columbia prides itself in training its students in critical thinking, and then they turn around and treat us as if we're not critical thinkers."
MORE: We don't need your 'benevolent sexism,' marching band women say
Like The College Fix on Facebook / Follow us on Twitter
IMAGE: Columbia University Marching Band/YouTube