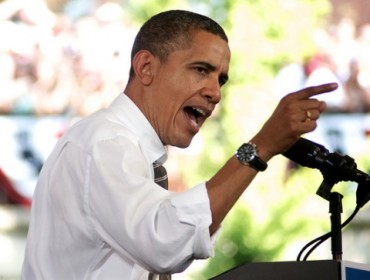 SURVEY: Obama's approval ratings among 18 to 29-year-olds tank, they reject Obamacare in droves, nearly half would support a recall.
More than half of Millennials – 54 percent – disapprove of President Barack Obama's job performance, and his approval rating among 18- to 29-year-olds has reached its lowest point since the beginning of Obama's presidency, according to a Harvard University Institute of Politics poll released Wednesday.
In fact, nearly half of Millennial's surveyed – 47 percent – said they would support a recall of the president.
Among today's young voters – often labeled as the key demographic that surged Obama to re-election, now only 41 percent of 18- to 29-year-olds approve of his job performance, sinking his approval rating among that age group by 11 points since the institute's last survey in April 2013.
The poll also found most Millennials reject the Affordable Care Act: Only 39 percent approve of the new federal mandate, while 56 percent disapprove, the survey found. The numbers were nearly identical when the law was referred to as "Obamacare," where 38 percent approved and 57 percent disapproved.
The poll found by a margin of 5 to 1 that young Americans believe their costs will increase under the healthcare law, and a margin of 2 to 1 that the quality of their healthcare will decrease.
"You can see that there are very few aspects of the healthcare initiative that they approve of," said John Della Volpe, the institute's polling director, in a conference call Wednesday morning. "They believe that quality will decrease and prices will increase."
Millennials are only slightly more likely to view the president favorably compared to the general population, with most national polls reporting his approval rating between 37 and 40 percent.
His numbers have also fallen among young voters of color. Approval among young white voters dropped 10 points to 28 percent, while Hispanics dropped 18 points to 53 percent. Young black voters remain strong in their support, dropping only nine points to a 75 percent approval, the poll found.
What's more, Obama's approval rating among college students is down: 11 points to 39 percent.
"(Millennials) are disappointed because they are passionate," Della Volpe said. "They are passionate about government, they are passionate about America, and they want to go to work for their country."
The poll also questioned participants in their beliefs about NSA whistleblower Edward Snowden's legacy. More than half, 52 percent, were unsure whether to label Snowden a patriot or a traitor. Twenty-two percent believe he is a patriot, and twenty-two percent believe he is a traitor.
The survey was completed with 2,089 web-based interviews. Forty-nine percent were male and 51 percent were female. Fifty-nine percent were white, 20 percent were Hispanic, 13 percent were black and seven percent were of another race.
​ A detailed report on the poll's findings is available online.
Fix contributor Michael Cipriano is a student at American University.
IMAGE: JBouie/Flickr
Like The College Fix on Facebook / Follow us on Twitter