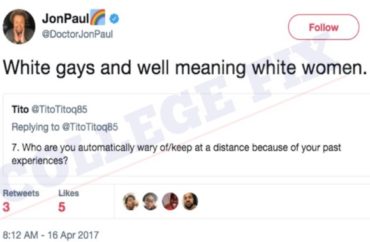 College hired LGBT director in spite of publicly bigoted Internet history
Last week The College Fix broke the story of Claremont Colleges' recently hired Queer Resource Center director's anti-white, anti-heterosexual tweet history.
On his Twitter feed, QRC Director Jonathan Higgins had a history of expressing mistrust of "white gays and well meaning white women," and also accused police officers of serving and protecting "white supremacy." Following The College Fix's reporting on the issue, Claremont Colleges announced that it would be re-opening the search for a QRC director.
Now it has been learned that the college was well aware of Higgins's controversial Internet history.
"The College was aware of Dr. Higgins' tweets and social media presence prior to our offer to hire him in early June," Pomona College Dean of Students Miriam Feldblum wrote in an email to Pomona students, as reported by The Claremont Independent.
"We recognize," Feldblum continued, "that [Higgins] brings an important voice to support of LGBTQIA students, and especially QTPOC [Queer Trans People of Color] students, and that he approaches his work with passion and concern."
Feldblum contends that she and another college official spoke with Higgins about "social media and the broader responsibilities of the Director position," but that ultimately "our visions to ensure the support of all LGBTQIA students at The Claremont Colleges did not match, and that we could not reconcile our paths." The staff at the QRC did not contribute to the decision, Feldblum contends.
These conversations and the college's apparent knowledge of Higgins' social media outbursts apparently did little to compromise his candidacy for the directorship. A dean of students announced his hiring in an email sent in June, praising his work as "a motivational speaker dedicated to empowering all LGBTQ students with an emphasis on students of color."

Yet within 48 hours of Higgins' start as QRC director, the college chose to terminate him—only hours after the tweets they had reviewed at length with their new hire came to light in national media coverage.

Neither Feldblum nor other representatives of the college have shed much light on the reasons for their sudden reversal—or why it occurred only after Higgins had officially entered his new role…

Feldblum email statement's makes no mention of whether media coverage of Dr. Higgins' tweets contributed to his dismissal.
Shortly after Higgins's dismissal, a group of Pomona students published an open letter decrying The College Fix's coverage of Higgins's tweet history and declaring that "the firing of Dr. Higgins … serves as an act of violence."
Read the Claremont Independent's report here. 
MORE: 'Student affairs professionals' tell Claremont: White gays are our enemies
MORE: Colleges reopen search for new Queer Resource Center director
Like The College Fix on Facebook / Follow us on Twitter