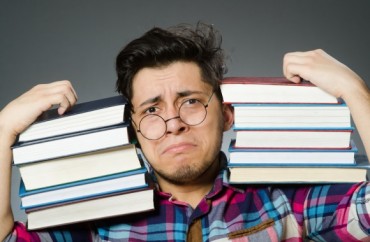 One might think students who attend a college ranked #1 by Forbes might be proud of that fact. But at Pomona College, many students thought their university's happy reaction to the recent accomplishment was some sort of travesty.
A cohort of angry students at the small, private liberal arts college in Claremont, Calif., demanded administrators remove from their website a news release touting the recognition, decrying the promotion as pushing "stress, anxiety and unhealthy competition among students."
In late July, Forbes ranked Pomona College as the No. 1 university in the nation. Its list is based on "student-consumer value over marketing prestige." Soon after its release, campus officials touted the ranking on their website homepage.
But some students said they felt the award should have been ignored completely.
A petition circulated by students cited a pledge Pomona administrators made in 2007 to never promote rankings to counteract "admissions frenzy." The petition went on to state "pressure to attend highly ranked schools can result in stress, anxiety, and unhealthy competition among students at a time when we are most in need of support, trust, and objective information."
"We encourage Pomona College to instead emphasize the many qualities which make it great and beloved–its community and relationships, small and rigorous classes, commitment to access, and student research and leadership opportunities," the petition added. "These qualities tell the story of our college far better than a single number. We therefore ask Pomona College to reaffirm its commitment … to forgo the use of college rankings in any of its publications."
Not all students agreed the ranking should be suppressed.
"Whether students are willing to admit it or not, college is competitive. Students compete to attend the best schools, schools compete to matriculate the best students, and employers compete to recruit graduates from the best colleges. In a competitive environment, not everyone can be a winner," states student Steven Glick in The Claremont Independent campus newspaper.
Glick also pointed out the Forbes ranking could help raise Pomona's profile, and removing the post would not change the pressure students feel to attend highly ranked colleges.
But the Aug. 27 petition garnered 58 of the college's roughly 1,600 students, according to the Independent. Shortly after the petition was launched, the post touting the Forbes recognition was removed from the college website's homepage.
Student protestors claimed victory.
"To all those who signed the petition, I am happy to announce that since yesterday, Pomona College has removed the article in question and all other mentions of the Forbes #1 ranking from its website and news page!" a student leading the petition announced Aug. 28 on Facebook. "It took us less than 24 hours to hold Pomona responsible on this issue."
Some voiced disapproval.
"Pomona should take pride in the fact that a major publication considers it to be the best college in America rather than giving in to the concerns of a handful of students who are worried that our objective success will negatively affect our vibrant and diverse community," Glick stated.
But a campus official says students got it wrong. Pomona spokesman Mark Kendall told The College Fix the article was not removed because of the petition, it simply cycled off the homepage.
"We had seen some of the debate, but the story was going off the homepage regardless. New stories were coming along with the start of the school year," he said in an email.
In addition, Kendall expressed that administrators hold a different interpretation of the 2007 pledge, which is not published on Pomona's website.
"We don't buy ads or 'badges' or run marketing campaigns crafted around U.S. News or other rankings. That's in line with our understanding of the 2007 statement," he said.
Indeed, the college still maintains webpages dedicated to marking the college's rankings; a news clip touting the 2015 honor can still be found under the website's "News and Events" tab.
It's unclear why student petitioners singled out this year's post, as the college has produced news clips on past rankings. Kendall directed The College Fix to Pomona's news clip on last year's Forbes list, which ranked the university eighth in the country.
While Kendall says Pomona doesn't "want prospective students to choose a college based on a list," its leaders also feel it important to share important news, like the Forbes rankings, with alumni.
"We share news when warranted, particularly when alumni and the community will be discussing it. We welcome discussion and debate, and we know there are many viewpoints, as you'd expect at a college," Kendall said.
Like The College Fix on Facebook / Follow us on Twitter
IMAGE: Shutterstock